18 years ago, two visionary leaders, aimed at transforming workplace learning, set out on an exciting journey. The humble beginning that Amit Garg and Amit Gautam made, is today recognized in the form of two powerful entities in the learning providers' space – Upside Learning Solutions and Upside LMS HRTech.
Like any other start-up, the Upside team faced its share of highs and lows – sailing through the tough times and flying through the glorious ones. The journey has been nothing short of exhilarating with many memorable milestones and probably an equal number of challenges. But there were two things that always kept us going – the trust that our clients placed in us and a team that went beyond all odds and inhibitions to produce the best output always.
Rewards and Recognition
We have won a multitude of awards and accolades over the years for the outstanding work we have done for our clients (over 90 to be precise) and we have also been certified as a Great Place to Work 3 times in a row – speaks a lot about our customer-centricity as-well as employee-friendly practices and culture. Not everyone who has helped us come this far is with us today, but they deserve a warm thank you.
Turning 18, the Bollywood Way
Earmarking our 18th Anniversary and some recent wins, on April 7, 2022, the Upside Learning team decided to get into the Bollywood mode to rejoice. We celebrated the special day at an upscale club in Pune, joined by our teammates and their families. The venue was recreated in Bollywood style, with extravagant décor, props, and life size cut-outs.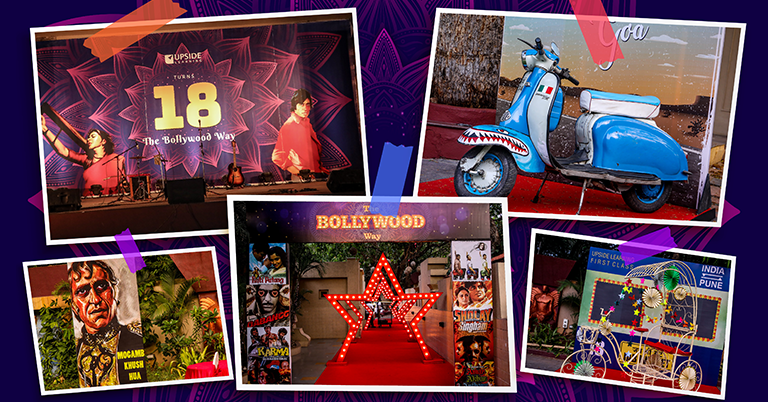 Many employees and their family members walked in dressed up as their favourite movie characters. The event had the perfect amalgamation of everything – delicious food, a rocking band performance, energetic dance moves, fun games, and a multitude of engaging activities that kept everyone involved.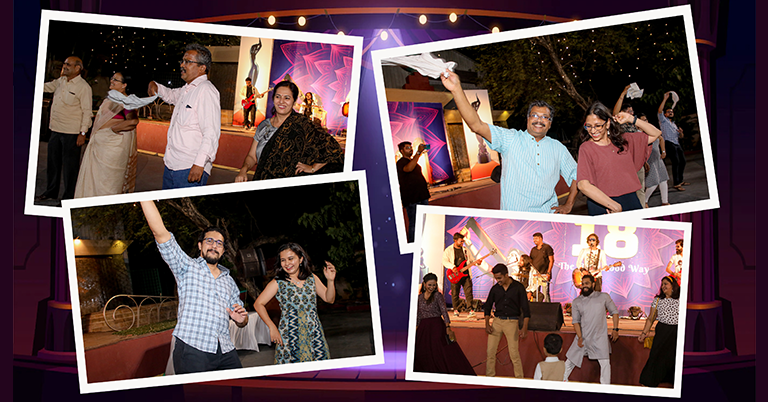 The Annual Curiosity and Learning Awards
Our curiosity and learning manifesto was also at an all-time high during the event. We have always emphasized on the importance of learning – not just to our clients but our own team as well. And our 18th anniversary was the right time to recognize our own learning champions and practitioners. We launched our 'Annual Curiosity and Learning Awards' a few weeks before our anniversary and on the D-day, gave away various awards in various categories, namely –
Seekhe Jee Jaan Se – Employees who passionately keep learning
Protsahing Manager – Managers who have been motivating people regularly
Gyaan ki Dukaan – Employees who are experts in their work and are happy to share their knowledge and expertise with others
Learning Se Action Tak – Employees who learn enthusiastically and bring that learning to their work
Jigyasu Jodidaar – Employees who are curious and keen on learning. They generally ask relevant questions.
Vikas mein Madadgaar Manager – Mangers who support their team to learn and grow
Upside's learning focus and these award categories deserve a separate post altogether and we shall do that soon but for now, here is an important disclaimer – any resemblance of these category names to any Bollywood movies, characters, or dialogues is purely intentional and not coincidental.
😉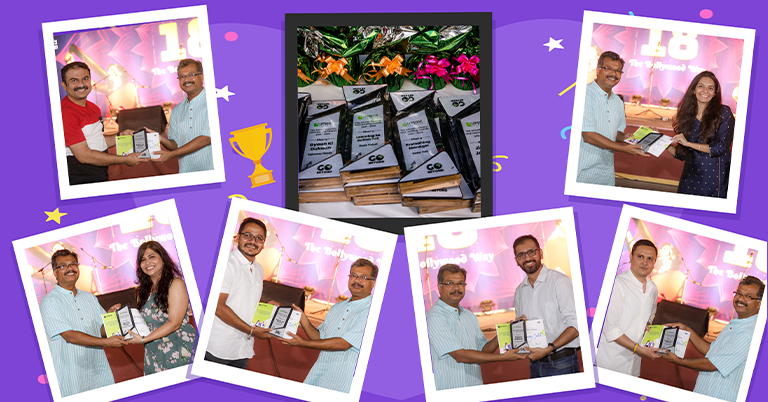 Celebrating Long-Service
Last but not the least, we also took the opportunity to felicitate our long-service employees on this special day. In times like today, when retaining employees is so tough, we are privileged to be working with some gems who have been with us for as long as 15 years. We are grateful that these employees chose to spend a considerable time of their life with Upside Learning. To appreciate their precious contribution towards the company's growth, we announced a company-sponsored (up to 1 Lakh INR) 7-day vacation for these employees to Goa or anywhere they like. This time-off includes 5 days of additional paid leaves. This is a step ahead in our long-service recognition practice – we have been recognizing employees who complete 10 years with us, with a 10-gram gold coin.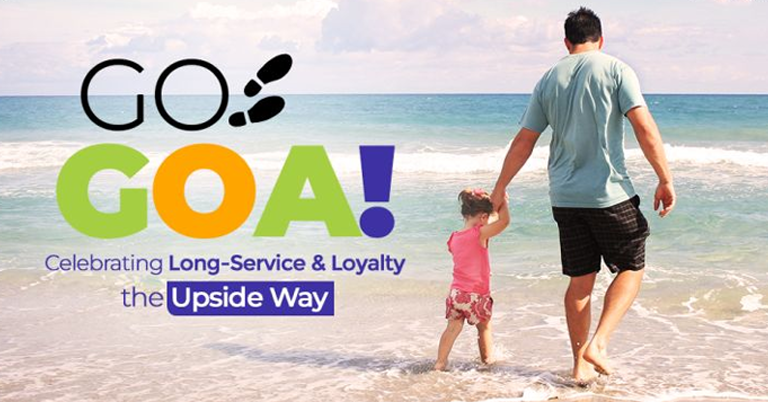 The Saga Continues
It will definitely be an evening to remember in Upside's history, not just because we turned a year older and better but also because most of us met in person after 2 long years of the pandemic. And the joy of meeting each other in-person can't be expressed in words. Upside Learning has been fortunate enough to have come this far and it wouldn't have been possible without the support of our employees and clients. Thank you to everyone who has contributed towards helping us grow by leaps and bounds.
To many more such anniversaries and celebrations! To many more years of going beyond!