2021 is still very new, and memories of 2020 are still very fresh – and why won't they be, 2020 was such an eventful year for every one of us, that we are bound to remember it for long.
The big shift to WFH
The year presented many new challenges with the COVID-19 outbreak catching us off-guard, forcing us to adapt quickly and efficiently to manage the new normal by working from home to make sure that the show goes on.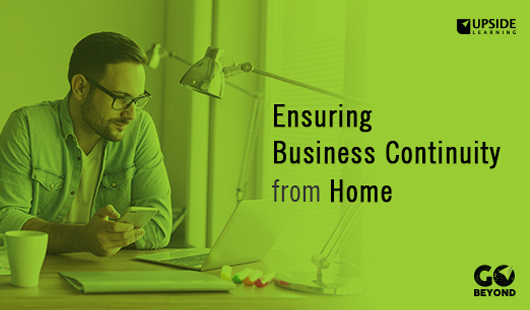 Adapting quickly and efficiently sounds easier than it was. While we were preparing to shift to working from home model, a sudden notification from the local government to immediately shut offices, meant we had no option but to shift immediately. A three-day holiday was declared for the staff which enabled the IT teams to set up systems enabling all of to be able to WFH. The IT and the HR worked tirelessly to enable minimum infrastructure and to achieve business continuity in a very short period. We've elaborated on the COVID-19 challenges and our victorious combat here.
Expanding the sales footprint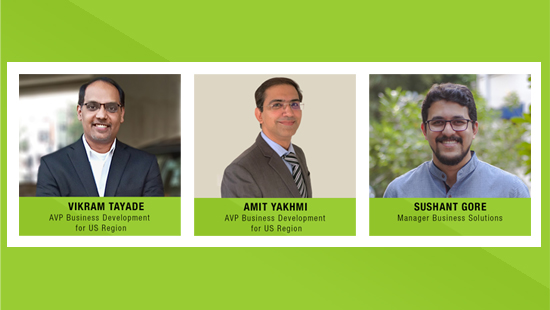 The year will however be more memorable owing to some major milestones at Upside Learning. We turned 16! …and with that, we got new blood on board – 2 AVPs for US region, Vikram Tayade and  Amit Yakhmi, and Sushant Gore as Manager for Business Solutions Europe. This aided in better foothold in the Europe and US markets.
Getting recognized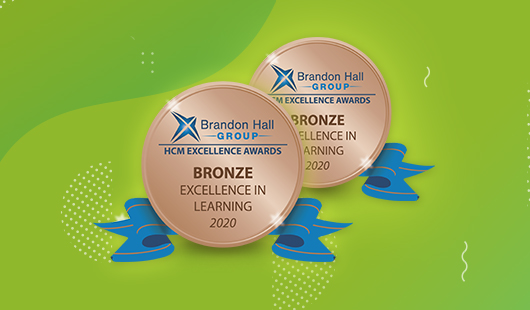 2020 was also special because we won two Brandon Hall HCM Excellence Awards. The Brandon Hall Group's Human Capital Management Excellence awards were a testament to our expertise in developing custom content and engaging learning solutions that deliver real outcomes to help organizations achieve performance improvements aligned with business objectives.
"Brandon Hall Group Excellence Awards Program has recognized leading organizations for the past twenty-plus years for the latest trends in Human Capital Management," said Rachel Cooke, Brandon Hall Group COO and leader of the HCM Excellence Awards Program. "The initiatives that were honored are not only innovative but fit the unique needs of the business and create truly remarkable success stories."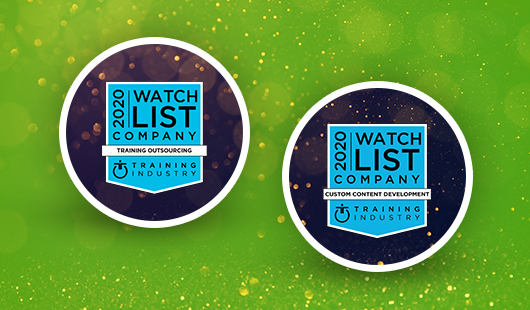 The list of achievements and accolades has only begun. We were listed in two Top 20 companies Watch List. One was 'Inc's – Top 20™ Custom Content Development Company Watch List' and the other was 'Top 20™ Training Outsourcing Company Watch List'. This is the fifth time that Upside Learning has been recognized as a leading Content Development Company.
"This year's Top 20 Custom Content Development and Training Outsourcing Companies are creating unique solutions by developing customized training that aligns with an organization's business objectives," said Ken Taylor, president of Training Industry, Inc.
These recognitions and accolades reassured us that our steady and zealous efforts have indeed been in the right direction.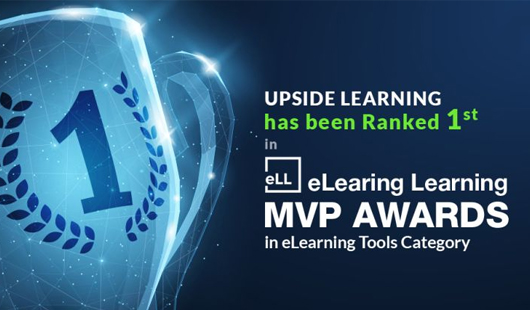 At Upside Learning, we believe that a big part of honing our craft lies in keeping ourselves updated on the latest in learning design, trends, and technology. In a world connected through social media, it is not enough to passively consume content; it's important to engage with our community of readers, learning practitioners, and the eLearning industry at large by sharing content, initiating dialog, and forming relationships based on shared experiences and collateral.
This year too we have been actively contributing to our online relationships. As a result, our viewership has grown consistently. Not only that we are proud to announce that we ranked 1st in eLearning Learning's MVP Awards in associations with The Learning Guild. The award-winning entry was LXPs are possibly the Dungeons & Dragons of the Learning World authored by Shreyas Korad in the #eLearningTools category. We also came 4th on another blog The overly abused and rarely understood world of leader boards.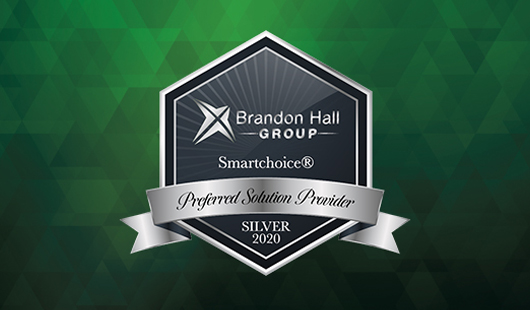 As the year was nearing its end, we got another boost by being certified as Smartchoice® Preferred Provider by Brandon Hall Group. After an extensive review, Brandon Hall Group confirmed that we are living our mission—to help L&D make a business impact: one learning experience at a time.
The analyst team at Brandon Hall Group has spent years understanding us as a solutions provider as well as the market in which we operate. The team had conducted in-depth briefings with our product teams, reviewed case studies, and collected customer feedback to certify that we deliver upon our message. To have victoriously passed that test we were overwhelmed and humbly gratified.
Upside Learning – a great place to work!
We did not know then what more surprises the year had in store for us, as, we received Great Place to Work – Certification™ for the second year running. So, not only were our clients and industry gurus happy with us, our people were happy too. And that matters most!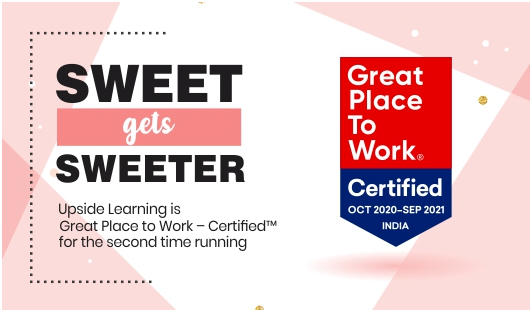 We had scored a brilliant 78 on the TRUST INDEX© Score which is an increase of 6 points from last years score of 72.  TRUST INDEX© is an average of five dimensions of the Great Place to Work® Trust Index© Model which are:
Credibility of management ™
Respect for people
Fairness at the workplace
Pride
Camaraderie between people
Learning in with Curiosity!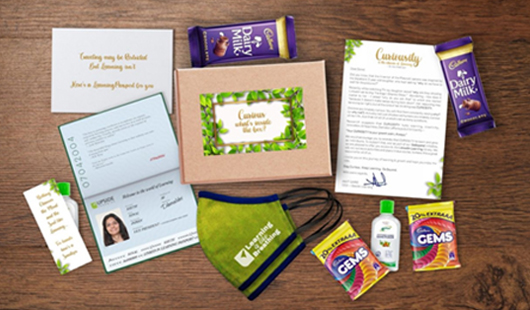 To ensure that our teams continue to better themselves at providing truly memorable and exquisite learning solutions, LinkedIn Learning was introduced in the organisation. We introduced it with – 'Curiosity', since as Sir Ken Robinson says 'Curiosity is the vitamin of Learning'.
There was a build-up to the virtual launch event and we shipped out Upside Curiosity Box to each of our colleagues' homes personally. It contained:
– A letter from the CEO – Amit Garg, emphasizing on 'why curiosity matters'
– A passport to LinkedIn Learning
– Couple of sanitizers
– Couple of masks with text printed "Learning is like Breathing"
– Few chocolates
The goal was to make everyone more curious. Rest would be easier (not easy – mind you). The first step, on a long journey toward building a culture of learning here at Upside Learning Solutions, was thus taken.
And guess what? Our LinkedIn Learning launch activity was featured in LinkedIn Learning case studies by their marketing team.
If you are also bitten by the curiosity bug, then know more about our initiative here.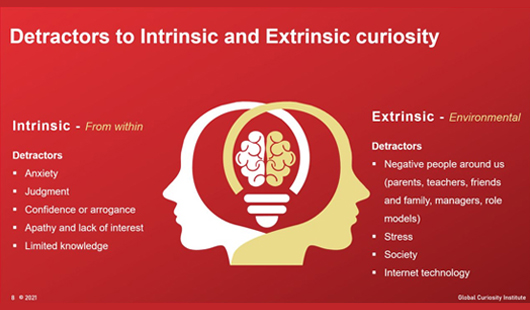 To continue with our curiosity journey, we signed up to being a part of The Global Curiosity Institute's Program that would help uncover individual & team curiosity levels through two separate surveys
Stefaan van Hooydonk, the founder of the institute conducted a workshop for our team managers to share the key findings of the team curiosity survey. We were really pleased to have signed up for this as there were some great insights from there for all of us to work on.
With this, we look forward to a great year of learning in 2021.