2019. A year that represents a key milestone in our journey. It's been an exciting time for us at Upside Learning. And how!
What began with a nudge to 'Go Beyond,' has seen us stretch our limits both at work and in our personal lives. A year sprinkled with challenges and learning that also welcomed us with accolades, and the motivation to do more. To be more.
Here's a sneak peek into all that's made us ready to face the (changing) music in the L&D landscape, and will certainly see us dance our way into 2020.
Remembering 2019 as a Key Milestone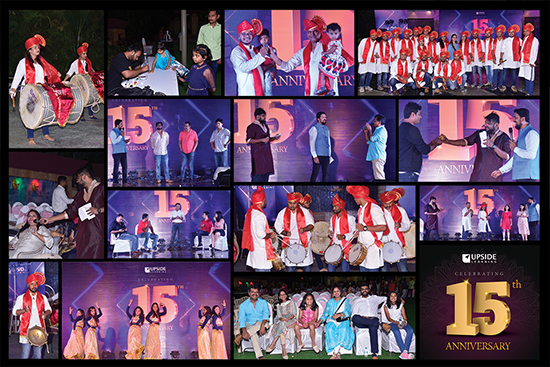 Upside Learning turned 15 this year – an important milestone for us: one that reminds us of the many experiences that shaped our vision as a creative solutions provider – from quick, simplistic ideas to more complex, targeted solutions.
What started as a small beginning in 2004, has now developed into a recognized learning solutions provider.  We continue to grow and learn, and expand our global footprint. We strive to 'up' our game as we dive into a new decade.
Cheers to turning 15 – and to our clients, vendors, partners, and teams that have helped us make it!
The Year We Realigned Our Vision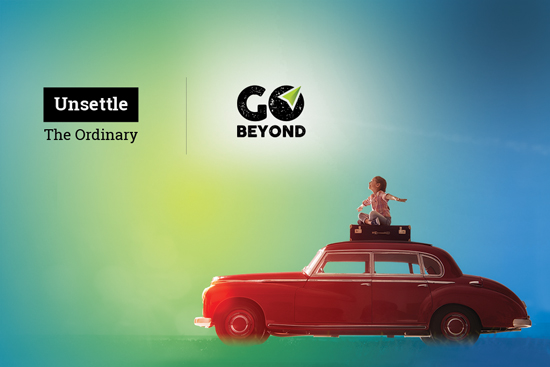 The nature of the workplace is no longer the way it was, say, 10 years ago. Neither is workplace learning. With workplaces themselves evolving into dynamic environment, workplace learning is also moving towards challenging times-what with digital transformation, a multi-generational workforce, and so on. But it's certainly a good time for the L&D fraternity to reflect on the way things are and what the way forward is.
So with this in mind, we looked at 2019 as an opportunity to Go Beyond what we've been doing, and work towards solutions that deliver better learning experiences and make a business impact.
We, at Upside Learning, pledge to 'Go Beyond' through a campaign with the same name, which is a clarion call to our customers, to our own employees, and to the L&D community at large to make the most of every learning initiative as an opportunity to do better.
Know more about Go Beyond here:
Deepening Our Knowledge on How Compliance Training is Perceived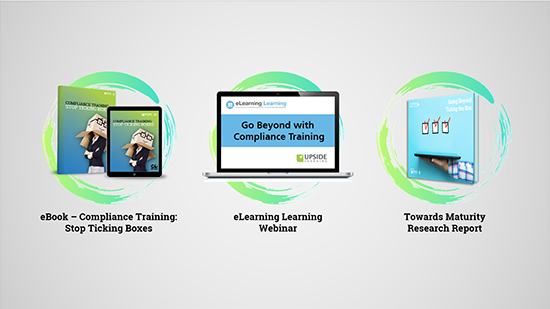 We took the Go Beyond Campaign as an opportunity to nudge the L&D community to explore greater possibilities towards making compliance training more engaging for employees. Industry-wide challenges with compliance training became our food for thought, to Go Beyond.
After surveying what organizations go through with this particular domain, we published an eBook – 'Compliance Training: Stop Ticking the Boxes '. Through the process of developing the eBook, we came across a lot of interesting insight and opinions from industry leaders and influencers, which also provided us the opportunity to evaluate our own observations and recalibrate our approaches as we prepare for the next year.
We also sponsored a webinar with eLearning Learning, and published a report with Towards Maturity.
You can access these resources here
Aligning Ourselves with the Vision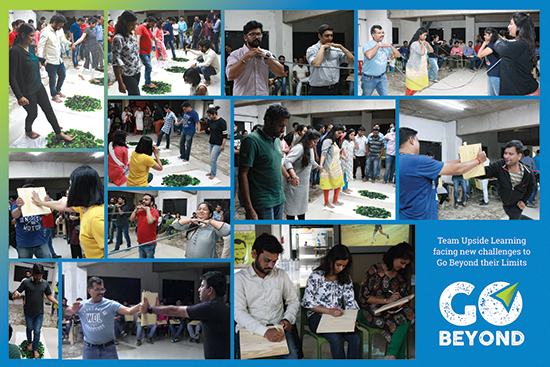 We took 2019 as the chance to expand our Go Beyond thought to our personal perspectives as well. On our collective quest to Go Beyond our physical and mental limitations, the Upside Learning Solutions Team went through a series of activities that they'd normally never imagine doing – and in the process realized important aspects about themselves, such as mental and physical fortitude.
The result was a more confident team, raring to take on challenges with a winner's attitude.
Another Feather in Our Cap: Being a 'Great Place to Work'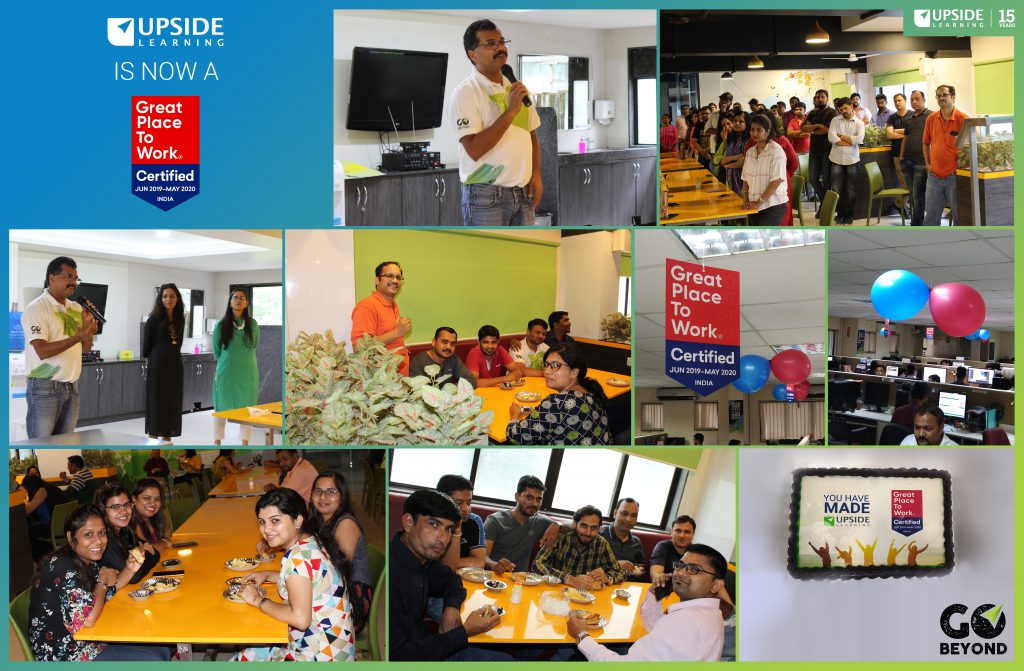 The culture at any workplace is palpable – by the work employees do, by the perceived leadership style, and how employees themselves are aligned to their individual roles. And we're happy to share that Upside Learning is now a certified "Great Place to Work": which is a great reflection of the overall pulse of our organization!
Among the many accolades that have come our way over the years, this was by far the sweetest one! The Great Place to Work® Institute (India) awarded Great Place to Work – Certification to Upside Learning for building a High-Trust, High-Performance Culture™.
Know more here.
Making 2019's Top 20 Watch Lists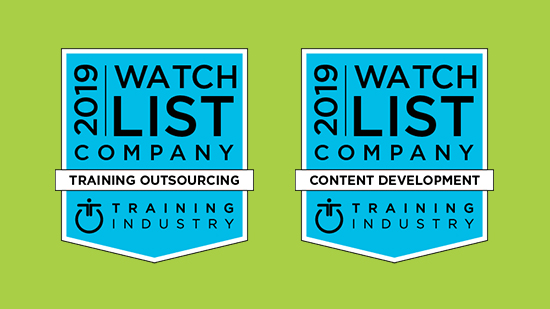 We're proud to have been featured in key watch lists this year!
Upside Learning Solutions was featured in Training Industry, Inc.'s Training Outsourcing Watch List 2019 for the fifth consecutive year, along with being featured in the Content Development Watch List 2019.
A moment of pride for us, as we continue to be on our toes, looking onwards and upwards, and poised for great opportunities in 2020 and beyond.
Being Recognized
The LearnX Live! Awards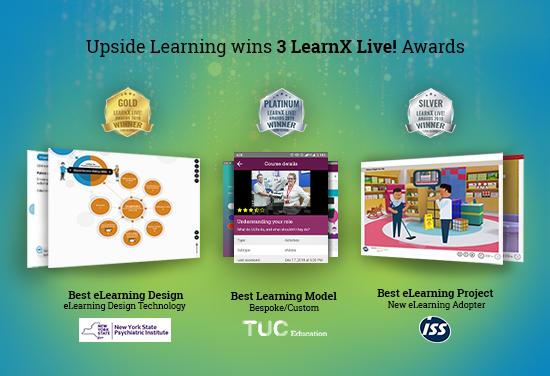 The industry-wide recognition we received this year has been extra memorable as we pledged to Go Beyond. And on this very journey to push ourselves, we've been super thrilled to receive THREE from the LearnX Live! Awards. Three wins from three entries for us!
This year's winning entries under the Learning and Development category were submitted jointly by Upside Learning and our clients.
Platinum Winner: Best Learning Model – Bespoke/Custom – The Trades Union Congress & Upside Learning
Gold Winner: Best eLearning Design – eLearning Design Technology – The New York State Psychiatric Institute & Upside Learning
Silver Winner: Best eLearning Project – New eLearning Adopter – ISS A/S & Upside Learning
Read the press release here
The Brandon Hall Excellence Awards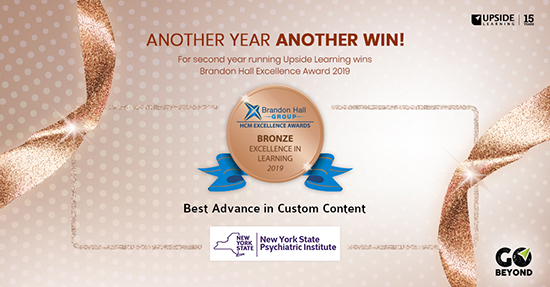 We picked up another award at this year's Brandon Hall Excellence Awards. And for the second year in a row, too! This year's winning entry under the Learning and Development category were submitted jointly by Upside Learning and the New York State Psychiatric Institute – which won a bronze in Best Advance in Custom Content.
Read the press release here
The Learning Technology Awards (shortlisted)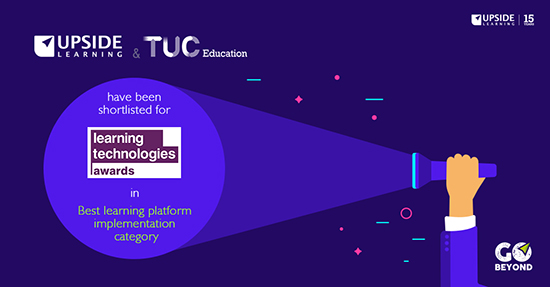 Some awards won, and key recognition along the way too! Our team at Upside Learning, along with TUC Education, was shortlisted by the prestigious Learning Technologies Awards for 2019 in the Best Learning Platform Implementation category.
With these feathers in our cap, and a team that's driven and charged, we feel ready to take on another year that represents a new decade with new L&D challenges, and we're grateful to all our clients, vendors, and partners who've been with us through our journey so far!
Going a Step Further with Compliance Training: The Compliance Hood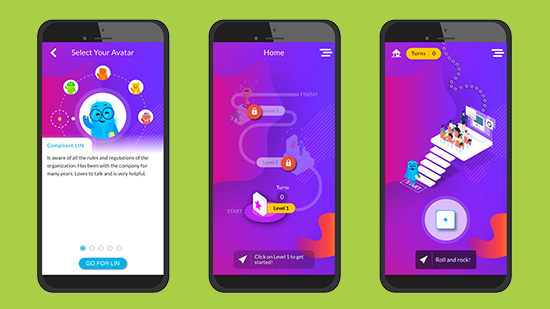 This year also saw us make an effort to address the compliance conundrum through an interesting initiative. The challenge was to make compliance-y content more palatable, and the experience of reading it more exciting.
Triggered by a request from a global banking leader, we looked at this as an opportunity to Go Beyond. We put our heads together to come up with something light and easy help employees sail through the Code of Conduct and company values. We were thinking: games, vibrance, quick decision points, challenges, the works. Enter 'The Compliance Hood'.
A fun, board-game-inspired experience, dotted with attractive visuals and sound effects, the Compliance Hood could be the missing piece in business' efforts towards helping teams brush up on workplace compliance regulations!
You can download the game from App Store and Play Store.
Expanding our Global Footprint
FuturistiX Live! Summits and Awards Show, Melbourne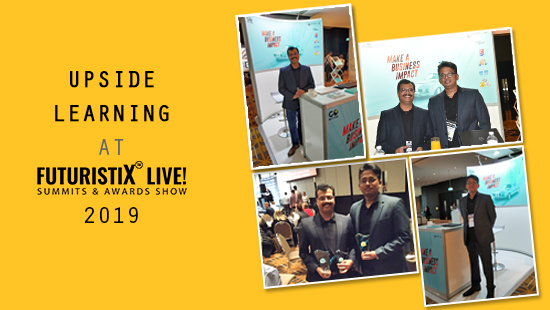 Among our global travels this year, Melbourne was on the list! We exhibited at the FuturistiX Live! Summits and Awards Show in Melbourne held from 15-16 October 2019. Amit Garg – Founder and Director and Venkatesh Chandramowly – AVP Business Development attended this event. An experience packed full of fresh L&D energy and fresh ideas – this one set the pace for us!
DevLearn, Las Vegas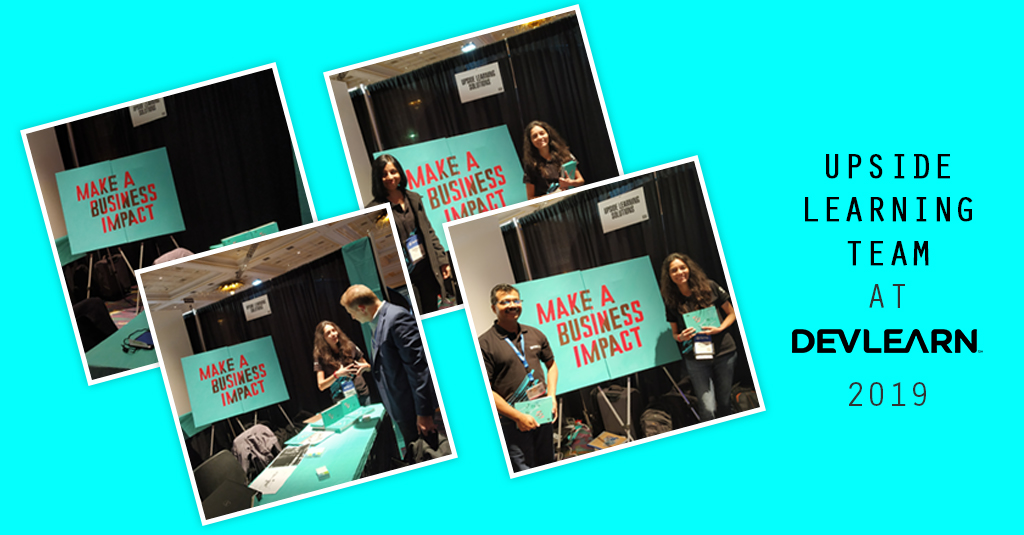 Like the previous year, our presence at DevLearn was indeed special.
Our team that travelled to Las Vegas faced an unfortunate event this year, the airline having misplaced their baggage containing all the marketing material. But with an enterprising spirit and a 'never say die' attitude, our tenacious team sourced supplies locally the night before the event, and created a makeshift booth, working until 5 am the day of the event. Kudos to the team!
Sailing through the setback, our team manned the Upside Learning Solutions exhibition booth—represented by Amit Garg, Vidya Rajagopal, and myself. We were all smiles and full of energy, welcoming guests and having interesting discussions on how to 'Make a Business Impact'.
Meanwhile, the Upside Learning team members attending as delegates – Mahesh Shinde and Shivaji Babar – had the chance to attend the many interesting sessions by industry thought leaders and practitioners at the event.
Together, the team really showed how to Go Beyond in the time of adversity, and brought back tons of ideas, thoughts, and perspectives on L&D as we see it, ready for the next year!
Upside Learning Opens a new office in Singapore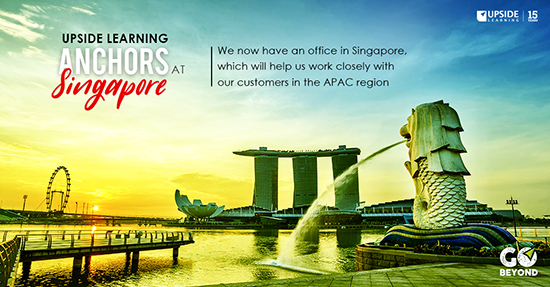 With a vow to better ourselves and our approach towards workplace learning, and truckloads of experience from our 15-year journey fuelling us, we've sailed our way across to Singapore!
We're happy to announce 2019 as the year we anchored Singapore. Our new Singapore office marks our presence in the APAC region, bringing us closer to our large base of customers in this region and Singapore. An exciting step for us, adding Singapore to our geographical footprint will help us deliver better service to our customers.
Read the Press Release here
All in all, an eventful year for us. With the many challenges we converted to opportunities, lessons learned along the way, and a fresh mindset to dive into 2020, we're excited about what lies ahead. So cheers to our team for a fantastic 2019. 2020, here we come!