Multi-device testing is no mean task. It involves testing the content being presented, the layout and the functionality. On a wide variety of device-OS-browser combinations. On simulators and emulators. And most importantly, on 'physical' devices – in the real environment, on the appropriate hardware.
Testing on both the simulator/emulator as well as the real 'physical' devices is necessary to maintain strong standards and quality assurance. But do you really need to test on physical devices? Can't emulators and simulators alone suffice?
Emulators and simulators do help, but…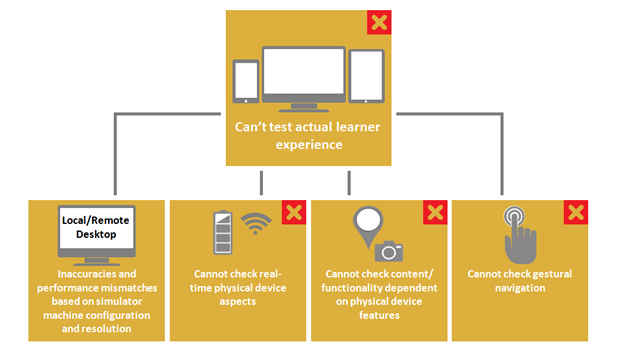 They don't give you the actual learner experience. There are certain aspects that you just cannot test by simply changing your browser size or using emulators and simulators.
Since physical devices are not being used there can be inaccuracies and performance mismatches based on the configuration and resolution of the machine running the simulator.
Checking real-time physical device aspects like battery life and charging, and actual bandwidth speed may also not be possible.
Nor can you check content or functionality dependent on device features like camera, location, and accelerometer, or simulate interrupts.
Also, eLearning includes a lot of custom interactivities. On multiple devices, this brings in gestural navigation, which requires the actual tactile experience to be evaluated on the device.
Testing on real 'physical' devices allows you to see and experience your learning resource exactly as your users will, resulting in true test integrity.
With over 10 years of experience in designing, developing, and testing different types of eLearning, covering Flash-based projects, courses created using Rapid Authoring Tools, and HTML-based projects for multi-device learning, we understand the importance of 'physical' testing well. We have made robust investments in our Multi-device Testing Lab infrastructure that allows us to test multi-device learning resources across a wide variety of 'physical' devices.
Our Multi-device Testing Lab
Our Multi-device Testing Lab is fully equipped with 20+ 'physical' devices (excluding desktops and laptops) running different operating systems and browsers. Windows PCs, Macs and laptops help us in testing for larger displays, while tablets and smart phones, running iOS, Android and Windows, cover the smaller ones.
Below is a list of devices included in our Multi-device Testing Lab: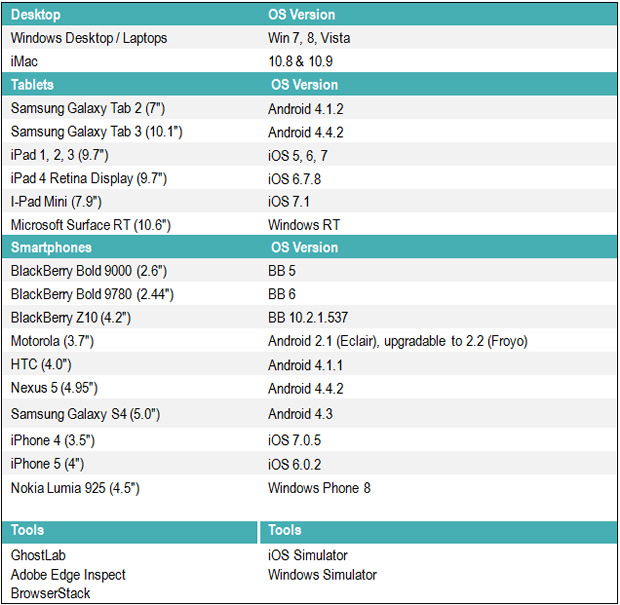 Our multi-device testing lab is backed by our experience and expertise, and a disciplined quality assurance process, which gives our clients the confidence that their users will enjoy an engaging and consistent learning experience on every device they might use.
Get in touch with us to know how we can help you in testing your multi-device/ responsive eLearning.