I came across a blog-post by Clark Aldrich titled – Using Serious Games and Simulations: A Quick and Dirty Guide . In this post, Clark talks about:
What simulations are and aren't
Where simulations fit in an organizations' flow of skills
Best practices in designing and creating simulations
After reading the post, I browsed the web for examples of simulations that are capable of generating a powerful learning experience. One that really struck a chord was – Inside the Haiti Earthquake.  Inside the Haiti Earthquake is a first-person simulation based on documentary footage from Haiti and real-life decision scenarios. At 4:53 pm on January 12 2010, the worst earthquake to hit the Caribbean in 200 years struck the impoverished nation of Haiti. The epicenter of the 7.0-magnitude earthquake was only 25 kilometers from the country's capital, Port-au-Prince; the devastation was massive and immediate. When the earthquake happened, a team of journalists co-coordinating with the Canadian Red Cross were able to deploy with some of the first emergency response units and they came back a few times afterwards to film the progress. Inside The Haiti Earthquake is an interactive documentary project about the Red Cross response in Haiti that allows users to simulate the experience of a survivor, journalist or aid worker following the earthquake.  In each role, users have to make choices and face the consequence of their decisions which ultimately, says  the creator (Michael Gibson) will "deepen their understanding of the conflicts, challenges and contradictions of disaster relief." The simulation's home page has the following intro: Inside the Haiti Earthquake is designed to challenge assumptions about relief work in disaster situations.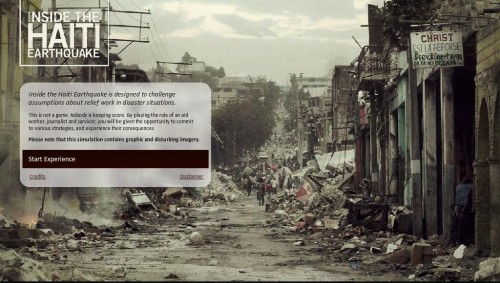 This is not a game. Nobody is keeping score. By playing the role of an aid worker, journalist and survivor, you will be given the opportunity to commit to various strategies, and experience their consequences.
What follows is fairly simple. You are shown a scene and then have to pick one of multiple choices, which will influence how the rest of the story progresses.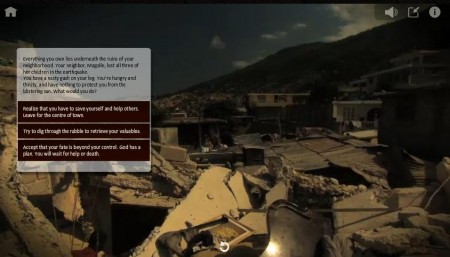 Inside the Haiti Earthquake is PTV Productions' first foray into web-based gaming. It is a nominee for the 2010 Canadian New Media Award for Best Web-Based Game. In November 2010 Michael Gibson presented a paper on the writing process at the International Conference on Interactive Story-telling in Edinburgh. The paper is available for a free download here You can try out the simulation or  view the trailer for the Inside Disaster documentary here