It's been a year since we started blogging (March 03, 2009) and we are raring to go another notch high. With 142 posts, over 75,500 page views, and  600+ subscriber base, it's been an enjoyable journey so far.  A big thanks to all our loyal readers for taking the time to read and for leaving your valuable comments. We sincerely appreciate your continued patronage. We look forward to a great 2010!
In the process of writing & sharing our thoughts, we now have a whole bunch of people (bloggers) at Upside who follow a large number of related blogs daily. Result: They are more updated and are constantly learning from the outside world. And there are many others at Upside who are trying to follow blogs to stay connected. We are also bringing some structure to our learning by having discussions on our and others' blog posts. I see all this as some form of self learning culture being established, which is great benefit that we derive from our blog.
There has been some important learning too on the blog front:
1. Write Meaningful Posts:We have learnt that writing good content is the key. People always like to read something that is coherent, useful and oftentimes entertaining.  So, we believe that we should get addicted to writing great content, and the hits and subscribers will take care of themselves. We have focused our articles majorly on eLearning, Mobile Learning, Learning Technology, Innovation, Future Technology, & Future Learning – domains that we specialize & operate in and domains that our readers like to read about.
2. Write Consistently:We are also happy that we have been able to maintain (or rather, consistently increase) the posting frequency that is necessary to keep the community engaged. We have a team of bloggers in the company who take it up on themselves to write and share with the world what they are currently thinking or working on. This, we now understand, could be a real challenge and requires dedication and commitment from senior management in a company.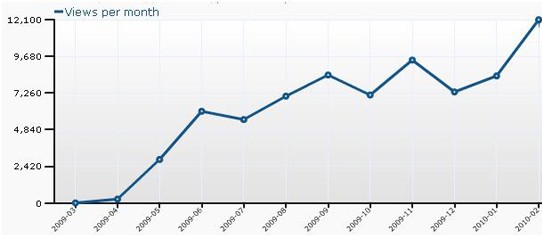 3. Choose Titles Carefully:
Our post on iPad (iPad Disappoints eLearning Industry) did not go down well with some sections on the web. Guess the problem was that we were speaking on behalf of the industry. We seriously felt it was disappointing for the whole eLearning industry but sure could have avoided using the word 'industry' in the title.
While we continue to write meaningful posts, we urge you to take the poll and help us understand what interests you as a reader.
[polldaddy poll=2785761]
If you haven't been with us since the beginning, we've compiled a list of our 20 most-read posts from the past year to get you up to speed.
In conclusion, I want to thank you again for your support and encouragement and look forward to more suggestions and feedback.
Keep in tune with the latest in eLearning by following us on Twitter or subscribing to our blog through RSS.