1.   HipLogic
HipLogic is a new real-time, web-based platform intended as an alternative user interface for some mobile phones. This free download currently delivers applications like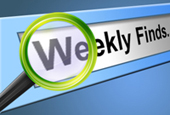 Facebook, news, and Twitter to both Windows Mobile and Symbian devices with plans to offer an Android version of their software sometime in the future.
2.    Color Picker
Color Picker by Korean designer Jin-sun Park is a concept pen that can scan colors from anything around and instantly use the color for drawing. After placing the pen against an object, the user just presses the scan button. The color is being detected by the color sensor and the RGB cartridge of the pen mixes the required inks to create the target color.
3.    When You Have Just One Computer for the Whole Classroom
To help schools get the most out of their limited computing budgets, Microsoft has developed a new software platform called MultiPoint that allows multiple students in a classroom to interact with a single computer simultaneously using their own mouse. As part of the MultiPoint platform, Microsoft recently released a free software add-in for PowerPoint – Mouse Mischief – that would let teachers create interactive presentations with True/False or Multiple Choice questions. When you play these slides on a computer screen (or a projector), the entire classroom can answer the questions using just their own mice.
4.    Nokia's Design and User Experience Library
In recognition of the importance that good design and user experience plays in creating successful products and services, Forum Nokia has renewed and extended it support available for those looking to improve the quality of their mobile applications. Central to this effort has been the launch of a new User Experience program and resources for designers.
Most useful of all is the launch of the Design and User Experience Library. It contains essential basic principles and key information needed when creating services for mobile devices.
5.    Firefox for Mobile – Fennec
Mozilla has been steadily creeping towards it goal of releasing the first Firefox browser for mobile phones. On Friday, Firefox 1.0 for Nokia's Maemo–previously code-named Fennec–arrived.
Firefox for the Maemo 5 platform has a few interesting conceits that set it apart from other mobile browsers, like Opera Mobile and Opera Mini.