1. Meaning Tool: Training Semantic Search With Feeds
Meaning Tool is a semantic engine that offers users a chance to extract concepts from text using specific semantic trees. You define your categories of interest by creating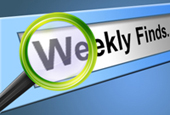 search parameters and training them with related websites or RSS feeds. A great tool to see how semantic trees can help search.
2. Captivate Integrates Twitter
Shameer Ayyappan, Captivate Product Manager, posted a Connect recording of his very cool Captivate Twitter Widget presentation to the Captivate Blog. We think there is potential for this sort of Twitter widget to be integrated into all sorts of learning content, keeping it alive and relevant.
3. Video Trace – Rapid Interactive Scene Modeling
VideoTrace is a modeling software from Australian Center that uses objects from video to create realistic 3D models. The user interacts with VideoTrace by tracing the shape of the object to be modelled over a number of frames in the video. The software then interprets the sketch drawn and generates a realistic 3D model. These models then can be inserted into a game, a simulation environment, or another video sequence. Very cool, we think it'll help the coming 3D web by making modeling easy.
4. Telstra's 3Rs of Social Media Engagement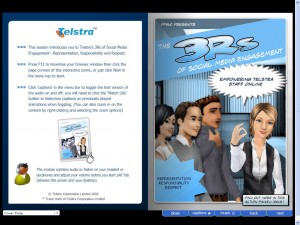 Telstra recently released an interactive ebook including Avatar videos and comic style stories to list the rules of Social Media Engagement for their employees. Definitely worth a look!
5. Polarbit brings cross-platform multiplayer 3D games to Android Market
For the first time ever, iPhone, Android and Nokia Ovi Store device users from all corners of the globe can challenge each other in cross-platform multiplayer games. Finally mobile multimplayer gaming across platforms, eLearning could do with just such a solution for its needs.