A lot of companies today face a resource situation that's not unique in this age. A few key individuals holding important technical and project management knowledge is quite common.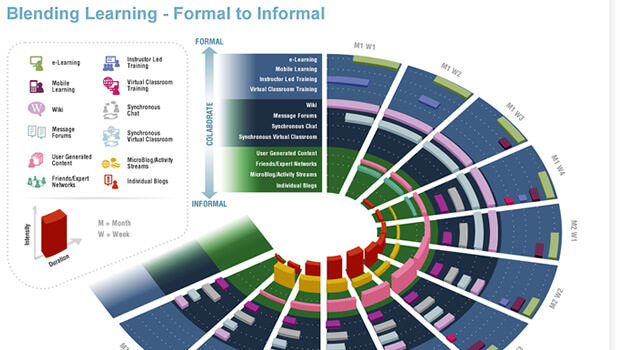 Such key knowledge in the hands of few prevents it from being disseminated broadly and leads to an unhealthy dependence on those individuals.
Recently, I was asked to propose a solution that addressed just such a business concern. To change a purely instructor-led-program for leadership development that runs over eight months and involves these key individuals is a large and complex activity. The adjacent diagram represents just what converting such a program to a modern blend might look like. Each blend is unique and purposed to address a specific need. All the components we show may not be a part of the solution.
The company has valid concerns about letting important technical knowledge and skills reside amongst a few individuals; this is a specific business risk and needs address. Realizing this situation exists is the first step and a crucial one. The best way to mitigate this risk is take the tacit knowledge held by these few individuals, document it, and disseminate it in the best way possible across chosen groups of individuals. Web 2.0 unleashed a wave of tools that facilitate learning by leveraging social networks and informal channels. Such tools must form an essential part of any company's learning strategy going forward; as these will fast emerge as the primary channels for learning.
We recommended that the company seek to provide such a Web 2.0 enabled platform for employees to build their own networks and channels. Using a singular enterprise-wide system for training groups in time means that each subsequent group can build on the contributions of the ones that preceded it. Each iteration adds valuable knowledge that can be leveraged by the organization for better productivity and performance.
We also illustrated how a program that blends various types of learning interventions and tools, that range from formal to informal and involve collaboration looks like. We're sharing this with our readers, perhaps you'd find this useful or inspiring.
Disclaimer: This is just representative and doesn't mean a blended learning program including these elements would necessarily include all those components, their durations and intensities.