The one question while designing any training, will it create the desired impact?
Companies put in vast amounts of time, energy and effort to create and deliver learning. What do they get in return? Improving performance and productivity is the sole purpose of L&D, but to understand learning's impact, proper data must be gathered while taking it upwards and onwards.
As recorded in the Brandon Hall Learning measurement study, 75% of the companies believe that the purpose of measuring learning is to improve the effectiveness of learning programs; but how far across the spectrum are the same companies looking, when it comes to understanding what effective learning essentially is and why is there a need for measuring impact of learning programs.
Checking the boxes vs. taking a step ahead
A lot of times, organizations are convinced that learning programs are effective simply because they exist, so they only need to measure whether people completed the program to prove its value. Course completion can merely be put on power with impactful learning, right? But only half the companies in Brandon Hall Group's 2019 Learning Measurement Study say they are either effective or very effective at measuring their formal learning programs, perhaps not even evaluating the impact of these learning programs.
Measuring course completions or time in training by staff and comparing it year or year, is at best measuring the efficiency of training systems in the organization. It's almost useless to anyone beyond the L&D teams.
L&D community is indicted of robbery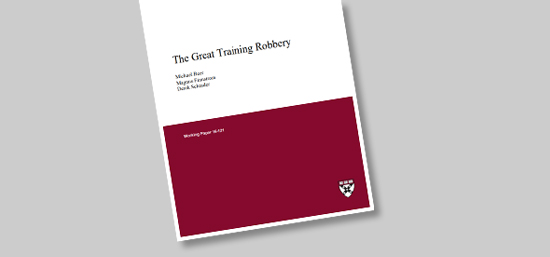 In their 2016 working paper published on HBR, the authors say this –
In 2012 U.S. corporations spent $164.2 billion on training and education Overwhelming evidence and experience shows, however, that most companies are unable to transfer employee learning into changes in individual and organization behaviour or improved financial performance. Put simply, companies are not getting the return they expect on their investment in training and education. By investing in training that is not likely to yield a good return, senior executives and their HR professionals are complicit in what we have come to call the "great training robbery."
This is a collective failure of L&D community in showing results.
As the world of data and analytics have matured, it has become easier to measure the impact of learning. For many L&D teams, their colleagues in other teams (like Marketing) have done much better on this aspect of measurement of outcomes and business impact of what they do.
What's really needed is to find your own WHY?