It is needless to say Coronavirus (or COVID19) has taken the world by storm. Leaving no country untouched, it has fast spread from China to Europe & US and the rest of the world. As of today, almost the entire world is in a lockdown. International borders are closed. Retail businesses are closed. Public transport is scarce. People are working from home if they can. Entertainment options are limited to OTT. Streets are literally empty. Only essential services are working.
Businesses are taking a big hit during this time. CNN opines in this piece that most airlines will go bankrupt by May. Goldman Sachs predicts a 24% quarterly drop in American GDP, more than double the biggest plunge ever recorded. Countries are beginning to respond with drastic measures. The United Kingdom has already announced an unprecedented move to pay 80% of salary of people (max 2500 pounds each) who are not working but are kept on the payroll (rather than being laid off).
At this moment the situation in Wuhan, China, the epicenter of this crisis, seems to be returning back to a somewhat normal state after around 60 days from the day 100 positive cases were reported. And that gives hope to the whole world. However, experts predict more waves over next year or so of COVID19 before it finally goes away.
As businesses worldwide struggle to remain afloat, many small & medium ones may actually wind up. Most large businesses may be bailed out by governments but will still suffer with severely depleted demand for some time. Consumer confidence (or spending) will take significant time to come back to pre-COVID19 levels – I estimate this to be about 12-24 months to get back to those levels.
The next 3-6 months will be of shock for businesses with most just grappling to ensure the top line doesn't drop too much. Margins are going to be a casualty for sure and training or learning budgets are likely to suffer deep cuts. So expect stalling of some planned training initiatives during this period, posing a challenge to most service providers in the eLearning industry to maintain their own revenues.
Impact on L&D
The eLearning Guild recently ran a survey to find out how the pandemic was impacting the guild members. They found that a large-scale shift to online from face-to-face format is happening right now.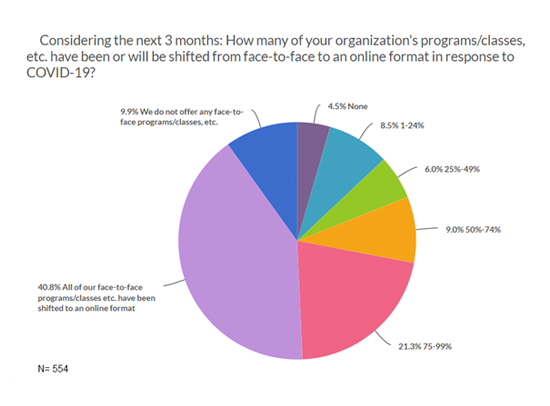 This is clearly a positive sign for the industry. However, we must acknowledge that this is more of a tactical move, one that is being embarked upon as an inevitability in the absence of other alternatives. We must ensure that this rushed move does not create a bad first impression as it may not be positive for the industry in the long term, particularly the post-COVID19 days.
The survey also shows that large proportions of scheduled L&D programs, conferences, and workshops have been cancelled. Overall, about 30% businesses have already seen revenue declines. Therefore, in my view, these are still early days and not all is positive for now.
I hope eventually this experience of remote working, interacting with colleagues over virtual meetings, attending some eLearning or VILT will open peoples' minds to many possibilities. So, more organizations are likely to start considering possibilities of moving their training to eLearning in future. In short, coronavirus will positively impact the elearning industry in the longer term. In short term, however there will likely be challenges.