We came across an interesting cluster of tasks at the workplace. All the tasks in this cluster can benefit can from 'live' performance support. Let's take a look at the task types first so you can see if your organisation can relate to such work!
Recurrent, Small or Standalone Tasks
Some lines of work involve repetitive tasks that are quickly performed, which can also be quickly evaluated. While the immediate association may be with manual tasks (such as, say, stacking inventory), some cognitive and behavioural tasks can also fall into this bracket (such as, calibrating machinery or greeting customers at a showroom).
70-20-10 Task-wise Breakup of Performance
In a 70-20-10 model of development, an entire role's performance is categorised in terms of critical tasks. These tasks constitute the 'core' value provided by the role. In 70-20-10, the approach is to focus on training for competence in these tasks, irrespective of their regularity of occurrence or time spent – the emphasis is on the impact that these tasks have. For example, 'understanding the customer' can be such a task.
Soft Skills Tasks
These are tasks with no clear procedure; rather, the tasks are governed more by guidelines or principles to adhere to. These tasks are difficult to see as meaningful when taken in isolation, they seem shallow and 'fluffy'. But, performed at the right time and in the right manner, they create huge value. An example of such a task could be 'keeping your customer engaged'.
As I already mentioned, one of the things that ties these three kinds of tasks together is the usefulness of 'live' performance coaching in teaching the task. Given the nature of the tasks, timeliness of teaching interventions is a critical element of successful training. Let me tell you more now about a specific requirement that Upside handled.
Case Study
We were approached for a mobility solution for an international chain of hotels. The chain has an open culture in which managers sit with mixed groups that comprise several roles. Managers may observe someone on the floor and spontaneously choose to sit with the employee and coach them for better performance. The requirement was for an app that would support managers in coaching their staff in this 'live' manner.
The solution we defined evolved through many discussions with the company. We studied what they planned to use the app for, how their training system worked and what they further needed to be able to do. The original requirement was for an app that would serve as a library through which to access content. After analysis and a few rounds of wireframing, the requirement was completely re-evaluated to be a much more expansive set of features.
The app had to actually accommodate the following:
Learner management for training nuggets
Content management for training nuggets, performance rating descriptors and training games
Reporting for different levels of management
Leader board tracking for training games
The solution we proposed had these components: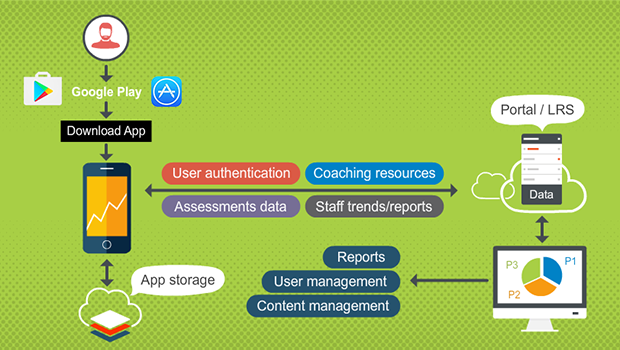 Making This Work for You
Here are some of the factors you must keep in mind to successfully solve address your training need in a similar way.
One important consideration for any app-based solution is whether a native app is required or a hybrid app will do. While native apps may allow better use of a device's particular hardware, they are much more expensive to maintain.
In the absence of a clear requirements document or feature specification list, it is especially important to spend time in the early analysis stage to derive what exactly is required in terms of functionality. A wireframe can help generate conversations about user requirements, admin requirements, back end and front end features, types of content anticipated, etc. This will inform key design, technology and deployment decisions.
As before, enterprise permissions and IT policies are worth considering at the very start. Sometimes, a perfectly logical solution may still not be a viable or compatible one.
User experience design should be factored into a later stage and separately performed by designers. The business logic or programming module logic may not be the best basis for deriving the flow of fields or arrangement of menus for an end user.
The more complex the app considered, the better it is to have staged production through set-by-set feature development rather than wholesale iteration.
Stakeholders required for project support from the customer's side are likely to be from multiple functions than in conventional eLearning.
To see more detailed case studies and learn how to effectively leverage mobility for your organisation's needs, download our new eBook – Mobile Learning: Let's Not Phone It In!
Note:- This article was published in the eLearning Industry site.