E-Learning industry has clearly moved to HTML5, owing to the advantage of its support for multiple devices like tablets and smartphones. HTML5 offers great scope for creating better experience, including rich and app-like user experience on mobile browsers, richer images, and location-awareness to browsers. Videos have emerged as the most consumed media on smartphones and the trend is only getting stronger. Making videos interactive can help them to be leveraged better for learning and performance support initiatives.
We have been also exploring how to use interactive videos as an effective eLearning tool for sometime now. In our attempt, we have experimented with some of the interactive video tools.
In this article, we will walk you through the features of some of the interactive video tools that can take learning experience to a different level. Also we have included, at the end, a feature comparison table for the various tools.
Wirewax: An interactive video platform with a responsive and feature-rich dashboard, Wirewax gives users the freedom to transform any video into an interactive one effortlessly. Its authoring page is one of the most fundamental features as it empowers the users to customize the videos, create overlays, add tags and build their experiences.
Their UX has witnessed a recent overhaul with bigger space for video timeline that gives the user enough room to navigate through their videos accurately. In addition, tags can be simply drawn around the object instead of circling around those restrictive bounding boxes. The editing motion tracking tool is more intuitive now resulting in accurate final tracking. Videos now come with more beautiful templates and overlay designs. All you need to do is choose from the range of templates and tweak the content accordingly.
Klynt: Klynt is an editing and publishing application for interactive storytelling.  With Klynt, the users can explore various narrative formats freely and use its special features to organize their storyline for sharing it conveniently; these include smart mindmap widget, mini player, and a search feature that allows for easy integration on any blogs.
Klynt comes with a WYISWG HTML editor that allows for easy and quick editing. Users have the option to edit text, photos, videos, audio, and hyperlinks within each sequence making use of individual tracks on their timeline. What makes it more interesting is the preview option that allows them to check their video instantly on the browser.
Klynt 3, their last updated version, offers a more engaging interface and comes with a list of features including photoshop files import, cloud video plugins, Dropbox and Google Drive Desktop Support, custom video annotations, and iOS support.
HapYak: HapYak , the interactive Saas video platform makes it incredibly easy to transform the existing videos into engaging and interactive videos. With their drag-and-drop studio, this platform lets the user add advanced interactions such as call-to-action, polls, surveys, chapter menus, hotspots, and links easily to their videos. It offers a choice of a wide range of interactive templates that can be applied to thousands of videos. The style of the interactive videos is easily customisable to match corporate branding.
This HTML 5 based authoring platform ensures interactivity across all devices. With the HapYak dashboard, you can not only track the behavior of users online but also get a detailed report on conversion rates, response rates and lead intelligence.
Hihaho: Hihaho offers a powerful yet intuitive platform to create interactive storytelling for eLearning courses. With the help of its interactive studio, you can add an extra touch of interactivity to your videos without editing the video itself. Another noteworthy feature is that you can import any videos from Vimeo or YouTube and transform them into an interactive one.
The video player output supports both xAPI (Tin Can) and SCORM that allows user to use Hihaho video in an LMS.
Koantic: Next in the list is Koantic, a complete eLearning authoring tool that offers everything you need to create interactive video based courses. Its web-based platform allows user to import, customize, and even publish HTML5 video content to SCORM. You can choose from their list of interactions including customizable shapes, images, hotspots, and bookmarks to make your e-learning content more engaging.
With its latest version Koantic 1.6, the tool offers you a list of exciting new features: pre-made templates for pages, free access to professional photo library, lifetime free access to their tools (free publishing for 21 days), new rotate feature that helps you position the interactions perfectly at a desired angle, enhanced xAPI tracking providing instructors a more detailed report on learners progress and the option to show or hide your course table of contents.
H5P:  An open-source HTML5 e-learning authoring tool, H5P is ideal for one-off courses that do not require more budget. The content comes in a single file and can be easily administered. It empowers the user to create, share and reuse interactive content.
Storyline 360: Do you want to feel like a professional while developing your first eLearning course? Start developing your course with Storyline 360. It's intuitive and seamlessly integrates with Articulate 360 content library giving a user access to high quality assets in e-learning industry.  Add interactivity to your videos within seconds with drop buttons, sliders, hotspots, markers and dials. The videos and simulations built with Storyline 360 offer the learners a more immersive and engaging experience. All in all, Storyline 360 offers you everything what it takes to give the learners a visual tour.
Raptmedia: Raptmedia's cloud-based video platform offers a suite of authoring, analytics and hosting tools allowing professionals to produce highly engaging content.  With the drag-and-drop option and editing suite, you can easily create rich interactive video experience.
A comparison of the different interactive video tools highlights how each of them can contribute to a rich learning experience.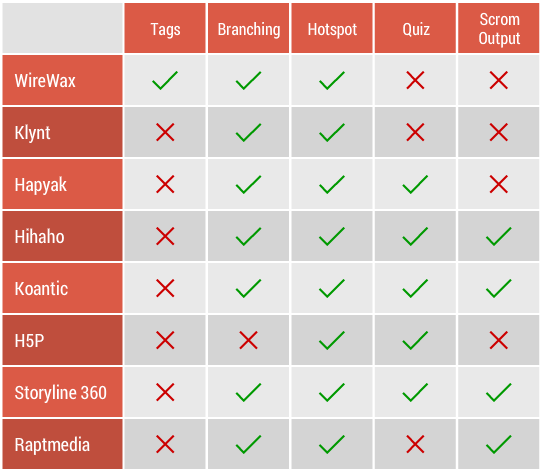 Interactive videos have changed the way we learn – from one-way communication to information exchange with the learner participating actively. We have come up with a list of the best interactive video tools in this blog that gives you a richer and more immersive experience.  But if you wish to go beyond the list of features listed above there is always custom interactions that can be added to your videos – which are more meaningful and focus on the learning activity uniquely suitable to the content/context at hand.