Earlier this year while visiting the Learning Technologies show in London, one thing that stood out for me was the advent of virtual reality (VR) on the corporate training scene. At least five different vendors on the exhibition floor had VR headsets to showcase their VR work in the training domain. Reconfirming the trend, the BETT show too had a few VR showcases, albeit for the education sector. It seems like VR for learning has finally arrived.
With rising interest in the topic, we're encountering an increasing number of questions from our customers. How can our organization use VR for training? For what type of topics and outcomes will VR be an effective solution? How much will it cost? What type of setup will be required?
This is the first in a series of posts that will address these and other questions. This post is a primer on VR – we'll take a look at what it is, how it has evolved, the levels of immersion that it can help achieve, and examples of its use in different fields. In subsequent posts, we'll delve deeper into VR and related topics with a specific focus on learning, training, and performance support.
What is VR?
As per Wikipedia:
"Virtual reality (VR) typically refers to computer technologies that use software to generate the realistic images, sounds and other sensations that replicate a real environment (or create an imaginary setting), and simulate a user's physical presence in this environment. VR has been defined as "…a realistic and immersive simulation of a three-dimensional environment, created using interactive software and hardware, and experienced or controlled by movement of the body" or as an "immersive, interactive experience generated by a computer"."
Source: https://en.wikipedia.org/wiki/Virtual_reality
Even though VR in the form of flight simulators etc. has been around for some time, what's interesting now is the use of headsets to create the virtual environment, which results in a 'relatively' lower cost. This lower cost opens up more industries and tasks that can be targeted through VR.
The basic promise of VR in corporate training is to effectively train staff on potentially risk-involving tasks in safe and engaging environments.
How is VR Different from Augmented Reality (AR)?
Explained simply, VR immerses you in a make-believe world, while Augmented Reality adds information onto the real world. Google Glass is probably the most famous example of AR. In subsequent posts we'll discuss more about how AR is different from VR especially when applied to the corporate training context.
A Quick History of VR (In 2 Slides)
In his presentation titled "Virtual Reality – Introduction & Market Overview", Sim Blaustein presents a compact summary of the key points in the evolution of VR. I've included just two slides here, so do spare some time to look at the rest of this fantastic resource.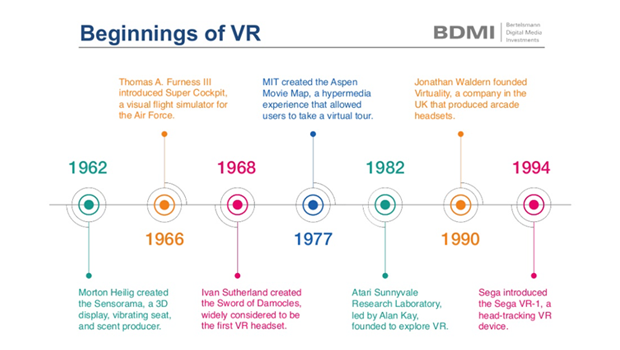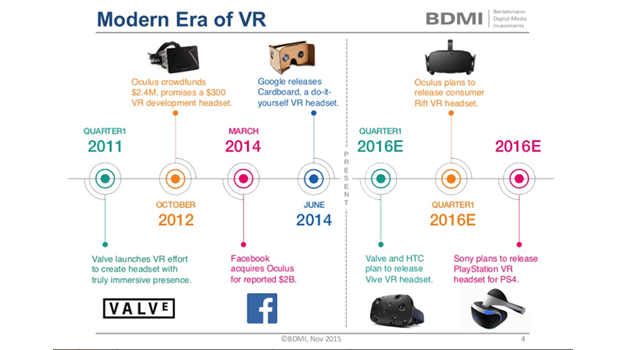 Source: https://www.slideshare.net/BDMIFund/the-emerging-virtual-reality-landscape-a-primer
Types of VR Solutions
Another great resource to get started is David Kelly's presentation on "What's Really Happening With Virtual Reality".
This slide summarizes the types of VR options and the immersion levels they can typically achieve. The hardware could be smartphone dependent or dedicated VR equipment (e.g. headsets, controllers, gloves, etc). The content could be 360-degree videos (aka 2D Photosphere) or 3D modeled environments.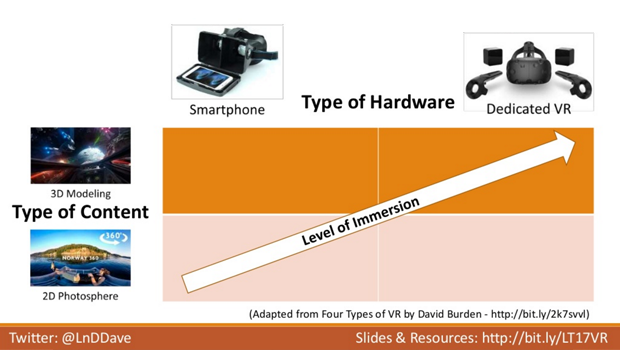 Source: https://www.slideshare.net/DavidKelly3/whats-really-happening-with-virtual-reality-vr/20
Smartphone VR is (relatively) cheap and convenient but offers limited engagement. In comparison, dedicated VR is costly but offers a much higher level of engagement. Similarly while 360 videos are cheaper and easier to create, they offer passive experiences; whereas 3D modeling is costly, but offers a much deeper immersive experience.
Where is VR Being Used?
Here are some examples of the (potential) use of VR in different industries – most of them are self-explanatory. You can visit the individual sources mentioned below each example for more information.
Undercurrent – Deep Sea Exploration Demo (Oculus Rift)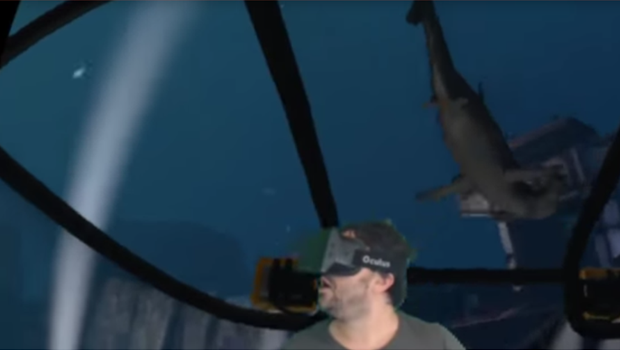 Read More: https://forums.oculus.com/community/discussion/409/undercurrent-deep-sea-exploration-indie-game
VR allows tourists to view Nero's Golden Palace in its original glory (Oculus Rift)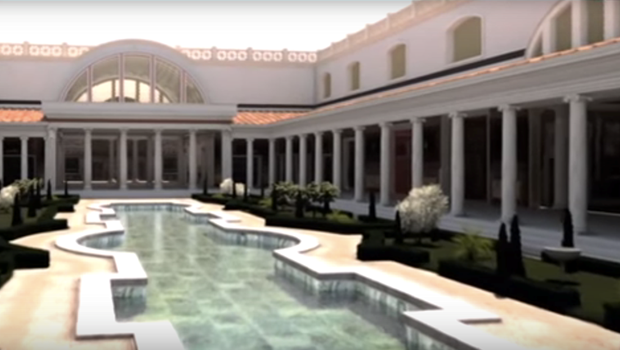 Source: https://www.youtube.com/watch?v=jN5cTDDYc9s
Read More: http://en.roma.waf.it/museo_dett/27-state-museums/724-nero-palace-the-domus-aurea-project.html
Hollywood Rip Ride Rockit l Universal 360° Attractions (Smartphones and Tablets)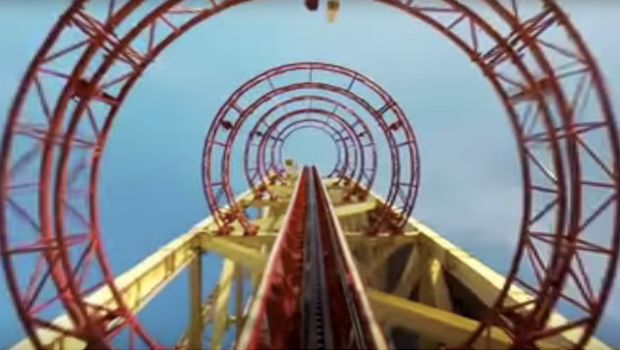 Source: https://www.youtube.com/watch?v=Js_Jv5EzOv0
Read More: http://blog.universalorlando.com/extras/360-rockit-ride/
STRIVR: Virtual Reality Sports Simulator | 60 MINUTES SPORTS September Preview (Oculus Rift)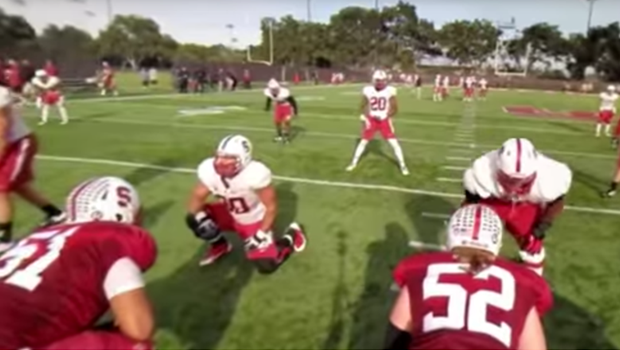 Source: https://www.youtube.com/watch?v=QSJVU7PK660
Read More: http://strivrlabs.com/
Surgical Training in 360-Degree Virtual Reality (Oculus Rift)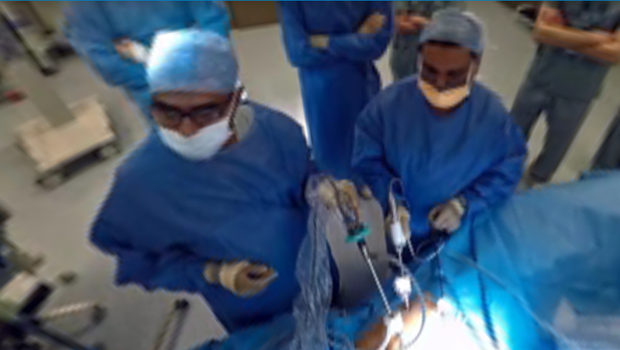 Source: https://www.youtube.com/watch?v=n7ALZkPoTYQ
Read More: http://www.medicalrealities.com/
Virtual Reality Training for Military and Law Enforcement | Immersive Training Simulation Applications (eMagin Z800 3DVisor)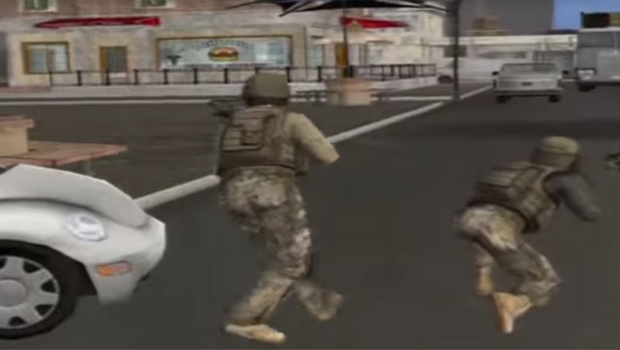 Source: https://www.youtube.com/watch?v=V34gCw4fyLs
Read More: http://www.roadtovr.com/virtsim-virtual-reality-platform/
Tesco Pele – Virtual Reality Experience (Oculus Rift)
Read More: https://creators.vice.com/en_au/article/tescos-using-virtual-reality-goggles-to-possibly-allow-people-to-buy-groceries-from-bed
Public Speaking & Job Interview Practice in VR – VirtualSpeech (Google Cardboard)
Source: https://www.youtube.com/watch?v=xxFSTAoId7Y  
Read More: http://virtualspeech.com/
If you're new to VR, this hopefully gives you a good start. Do share your thoughts in the comments space below. In subsequent posts we'll be delving a little deeper into the topic.