The Fosway 9-Grids provide an independent assessment of the principal learning and talent supply options available to organisations in EMEA. It is a five dimensional model that can be used to determine the positioning of learning service providers/vendors based on 5 key parameters namely- Performance (includes market performance and customer performance), Potential (scope, capability and sophistication), Market Presence (historic & current), Total Cost of Ownership (internal& external) and future trajectories across the market (direction of travel in terms of performance and potential).
Here's this year's Grid, and hey you see us?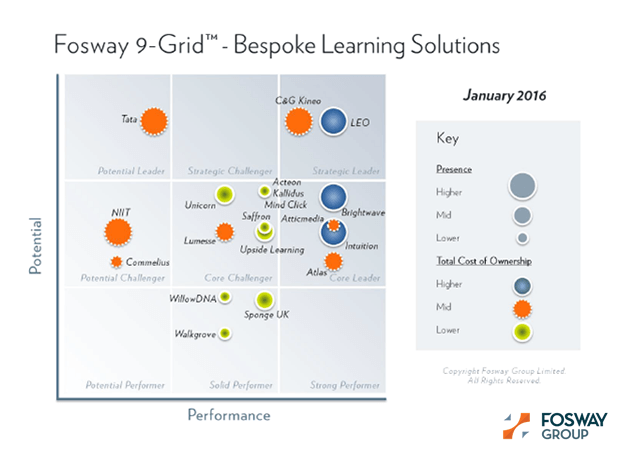 There we are in the Central Grid.
Interpretation!
The 2016 Fosway 9-Grid, has positioned us as core challengers, with lower TCO and reasonable presence in the bespoke learning solutions market. This market positioning greatly owes to our wide range of eLearning solutions that include but are not limited to, Bespoke eLearning, Multi-device eLearning, Rapid eLearning, Translation and Localisation, Multi-device eLearning Testing etc. It is indeed special to be featured on this grid for a fully offshore vendor.
If you are thinking why the 9-Grid, Fosway Group CEO, David Wilson answers this question the best. In his words, "External market forces, mergers and acquisitions, new technologies, and shifting client requirements all impact suppliers of learning solutions and their ability to meet an organisation's needs'. The Fosway 9-Grids lift the lid on the evolving – and buoyant – learning technologies market. Our aim is to help buyers select the solutions and suppliers that are the best fit for their particular challenges, including budgets, scope, functionality and importantly, customer service."