In this little virtual speaker's corner and on my very own little 'soapbox', let me have a little ramble on how technology – specifically the iPhone – has had a huge influence on the way I think, work, play and learn! You're thinking "Yeah, yeah sure, everyone says that"…. but stop and consider how you use your phone? Now? Six months ago? A year ago? I like to believe I am an organised man, sometimes bordering on being OCD but thanks to Steve Jobs, the iPhone, Apps by the zillion and their creators – I am now organised to a point of confusion! I have an App for everything! I must add a disclaimer – all our Apps are "free" – don't see and haven't really needed to buy one….yet!
But what intrigues me, is the evolution of App usage and its effect on the way we do things. My own little research sample, consists of my wife and my University- going daughter. Comparing the Apps we have on our phones and why we have them there, tells us a lot about how we use our phones (the kind and types of apps), our personalities (the way they are organised) and of course what we use our phones for.
Intriguingly, the apps on the family iPad are slightly different – and my analysis of this is that it reflects the luxury of a bigger screen. There are some apps that just don't work on 3 ½"!!
So what role does the "App" play in my life? Well, going back to the evolution story and I suppose like most of us, it all started with 'games' – I had all the racing, shooting and sports games, my wife had word games and puzzles and my daughter had racing, fashion and a whole lot of what classify as mindless one's involving bursting bubbles and joining things up! This lasted about 6 months – I still have a lot of the games but don't really play them, unless of course I am on a tube or a train with nothing else to do and enough juice still in the battery! Almost ditto for the wife and daughter, except the 'mindless' suite is still being used but not as often!
There has been a very marked change in my 'most frequently used Apps' – I now look for "useful" apps! And I would classify them into 3 broad areas –
Performance support and productivity
News and reference
Social and communication (excludes paid for telephony)
I am not going to get into the Apps themselves but am going to look at their use and if and what I am possibly learning in the process.
So, let's look at a screen shot of the 'home' screen of my phone – every app (with 3 exceptions) help me on a day-today basis – part from the obvious of phone, email, contacts and calendar – I have the London tube map, a torch, Google maps and navigation – so I can find my way to and from meetings!! – and a note pad for quick note taking.
This is My "performance support" and a bunch of apps that I use constantly!  They take away the stress of finding something (except the App itself!), they provide the function and the information I need, where and when I want it and it's always available! So look at your own phone and see what you have there and how YOU use it?
Figure 1 – Productivity & Performance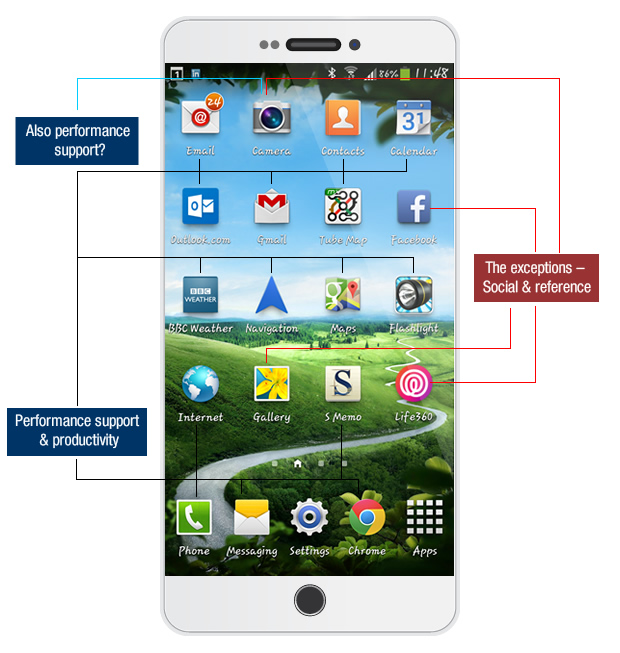 Now let's look at another screen on my phone – this is the organised one!! All neatly in folders, planned so I know where to look instead of swiping my way through a million screens and missing the one I was looking for! There is an app for everything, remember? Again, predominantly performance support? Things I need to do and use often? Train timings – I commute and travel to meetings, most often by  train, there's apps for  traffic on the roads, Wi-Fi connectivity and my banks and credit cards while on the fun and social side there are all the social tools – Twitter, ScoopIt, LinkedIn, Flipboard etc.
Figure 2 – News, Reference, Social and Communications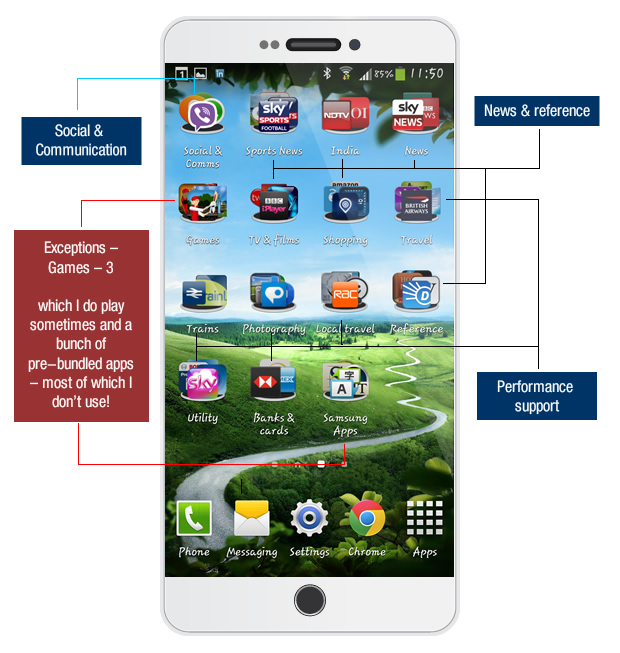 But, this whole exercise is about learning – so what does this actually tell us. It tells us:
Access is key – we like to be able to access information which is relevant, important and useful
Instant availability – which is why it's on our phones – it gives us that ability
Lower memory retention – we don't need to remember more that 'where to find it' and if you don't know that there's Google!
Priority and granularity of information – I arrange my information by priority and use – the level of information required warrant an independent App or a group of apps
And to sign this off – the frequency we use these apps come down as we learn – I no longer need to look up many of the train times – I used to – I know them – I learnt!
Our friends and colleagues are doing the same thing albeit in their own way –we in the business of learning must use this powerful medium to aid and abet and life will be very 'appy!!