With the launch of iOS 7 it is now apparent that Apple will soon be coming out with hybrid laptop/desktop and tablet devices. Patently Apple reports that Apple has already filed a patent for hybrid notebook/tablet whose display can be removed from the base containing the keyboard. How soon before the launch? We will have to wait and watch.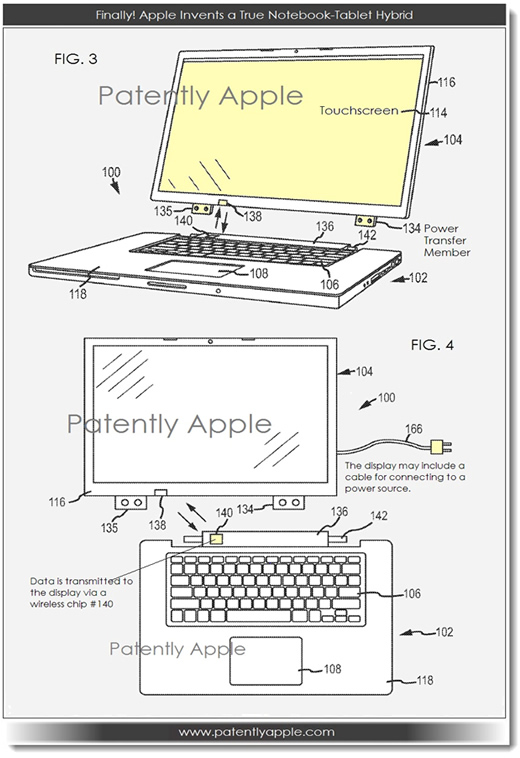 Speculating about the hybrid device, while it will be novel in some regards, it will closely resemble a number of devices that have been widely available for years now. Like the several hybrid models on Windows 8; one ASUS model even boasts of a dual OS. 
The Guardian believes Apple is merging mobile and desktop stating –
"Mac OS X 10.9 ("Mavericks") borrows a fair number of elements from mobile (such as Maps), and there's increasingly tighter integration between the two – although no merging of the user interface. Apple is trying to make the three platforms – phone, tablet and PC – work together seamlessly without taking Microsoft's path of forcing the desktop OS onto the tablet.
Like Google, Apple thinks tablets are more like phones than like PCs. And while Google is trying to do the same integration of desktop and mobile, Apple looks to be ahead. There's more detail about Mavericks on Apple's site. Note how AirDrop has moved from being a desktop feature (where it started) to mobile (where it's potentially much, much more useful), iMessage is on both, Maps is on both. It's a shift towards feature parity but not user interface parity."
Paul McDougall's argument that iPad hybrid tablets are inevitable is very interesting as well.
How does it impact learning solutions?
I think this is quite significant. It endorses Microsoft's view on the evolution of devices, and will mean hybrids might just be the more common devices we use in the workplace. In that scenario every eLearning you create will be targeted on tablets by default. Since context drives the choice of devices we use, this brings in the complexity of designing for multiple sets of contexts in which the same eLearning may be accessed on the 'same' device.
What do you think?
What other impacts do you think it'll have on eLearning / mLearning development?
FREE eBook