It is a well-known fact that Mobile learning hasn't yet picked up steam within India. The primary reason for this being the low rates of mobile internet penetration in our country. However that might change very soon if we are to believe research conducted by McKinsey & Company.
I came across a report on the McKinsey Quarterly website titled – Can India lead the mobile-Internet revolution? Here are a few key points from the report, which I found really interesting.
Key Points
India has relatively few Internet users: just 7 percent of its population is connected to the Web, compared with 32 percent in China and 77 percent in the United States.
India's base of 81 million Internet users is the world's fourth largest. Yet this figure is a function of sheer population, not deep adoption: just 20 percent of India's urban citizens are connected to the Internet, compared with 60 percent in China.
Even though typical Indian consumers have no Internet access, they have a remarkable appetite for digital content. In fact, they consume an average of 4.5 hours of it daily across offline channels such as television, DVDs, and CDs.
While India is a relatively poor country, more than 70 percent of its urban consumers already spend about $1 a month on content and services through offline, unorganized retail channels – a market estimated to be worth more than $4 billion annually.
The mobile Internet could deliver the personalized entertainment that Indian consumers crave. If India's latent demand is unleashed, McKinsey research forecasts that the total number of Internet users will increase more than fivefold, to 450 million, by 2015. Total digital-content consumption will double, to as much as $9.5 billion. Including access charges, revenues from total digital consumption could increase fourfold, to $20 billion-twice the expected growth rate of China.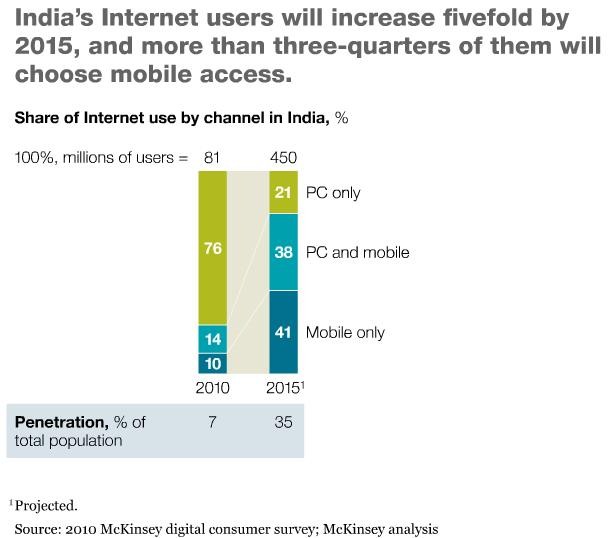 Other influencing factors are also falling into place, with prices of handsets and costs of accessing the network going down. If this pans out as predicted, it would sidestep a number of hurdles relating to providing cheap internet access across a large country.
Impact On Elearning Developers
As Elearning developers, we need to ensure that our development team members (Instructional Designers, Graphic Designers and Programmers) are more familiar with HTML5 and some critical design conventions in order to make our mobile applications a success. The evolution of HTML will further boost the power of mobile devices, accelerating changes in the way people consume content and the potential use of smartphones and tablets as both a marketing platform and a productivity tool. The gradual shift to HTML5 will allow programs to run through a Web browser rather than a specific operating system or plug-in. That means consumers will be able to access the same programs and cloud-based content from any device-personal computers, laptops, smartphones, or tablets-because the browser is the common platform. I would love to know what you think about the future of mobile learning in India.