"There is only one thing stronger than all the armies of the world: and that is an idea whose time has come." – Victor Hugo
At Upside Learning, we believe that this is the right time to leverage mobile learning at the workplace. We worked hard, came up with ideas, criticized them, went back to the drawing board, and came back with better ideas. Upside2Go – our mobile learning solution, is the culmination of our innovation process.
Upside2Go is a novel platform for mobile learning. It is a solution that will not only help your training department reach out to your mobile workforce easily, but would also enable a mobile-based approach to real-time sharing and collaborating, within and outside a team.
Upside2Go enables you to not only access learning content but also participate in surveys, polls and forums; network with friends and peers; seek answers from content experts; and much more. It also allows you to capture photos and videos from your mobile phones and share with other users leading to collaborative learning.
Key Features Of Upside2Go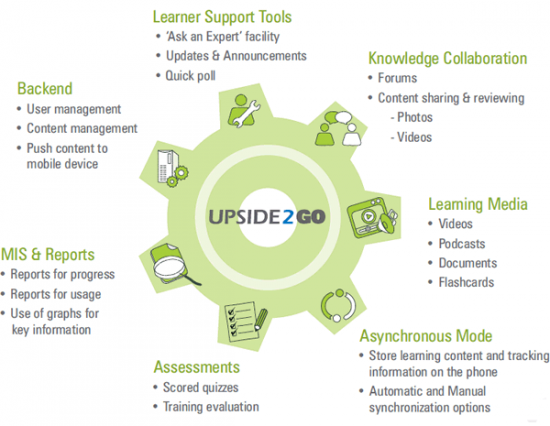 Upside2Go has been designed to cater to the unique requirements of L&D departments and managers – delivering training and improving performance, while allowing the workforce to also share knowledge in real-time using a mobile device.
Designed to work with or without an LMS, it will ensure that you can manage learning effectively and easily – anywhere, anytime. Currently, it comes with a ready plug-in for Upside Learning's multi award-winning, best value Learning Management System – UpsideLMS , however it can easily be integrated with any third party LMS as well.
Upside2Go will be formally unveiled at ASTD TechKnowledge 2011, on 3rd February at 1.00 PM (local time) by Amit Gautam, Director of Technology Solutions at Upside Learning. Explaining the nuances of the system, the session will showcase Upside2Go's ability to help organizations manage learning for their mobile workforce effectively – anywhere, anytime. Attendees can look forward to getting a first-hand experience of Upside2Go in a live environment.
Upside Learning's representatives will be present at Booth No. 504 throughout the event. To pre-arrange a meeting with a member of our team during the conference, please contact us at sales@upsidelearning.com.