I spent most of my free time over the last few weeks reading Edward de Bono's book, Six Thinking Hats, and thinking about how this thinking process can be applied to Instructional Design. Before I get to that, I'd like to give a brief overview of what the Six Thinking Hats are all about.
Six Thinking Hats is a flexible and easy-to-use thinking process that leads to amazing results with innovative thinking, improved communication, and reduced meeting time. The Six Thinking Hats method encourages Parallel Thinking, where everyone explores all sides of an issue at the same time.
In parallel thinking, confrontation is replaced by a cooperative exploration of the subject. It encourages the sharing of information, reduces argument, and allows talkers to think and thinkers to talk. Using a Six Thinking Hats sequence ensures that all aspects of an issue are considered.
The Hats
Each of the Six Thinking Hats represents a different direction or type of thinking, which is identified by a color: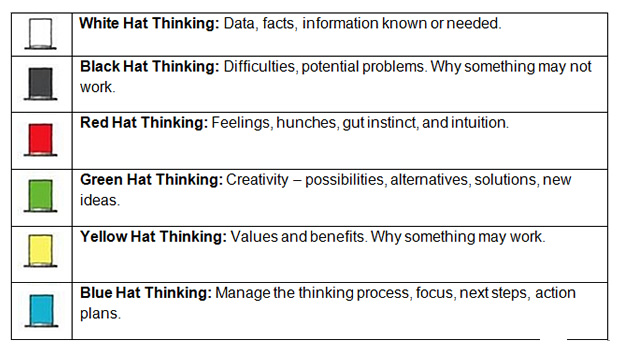 Instructional Design and the Six Thinking Hats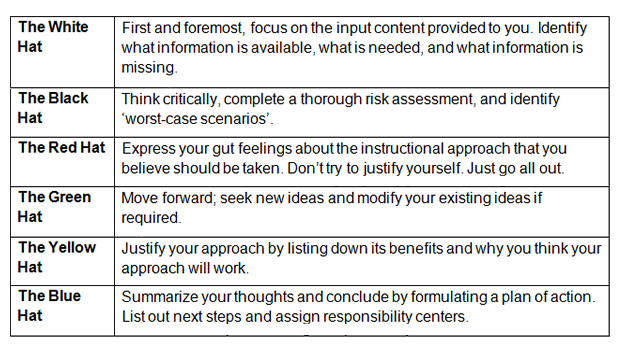 Applying The Process
The Challenge – One of our clients wanted to convert some of their existing content into an eLearning course. Their input content was a dry 80 page PDF document.
Wearing the White Hat – Our project team first went through all the content and cross referenced it with the course outline that the client had in mind. We realized that a sizeable chunk of the information that would be required for storyboarding – was missing. We raised a flag right away and asked the client for additional information.
Wearing the Black Hat – We then did a thorough risk assessment considering project timelines, budgets, scope of development and documented our observations. That helped us realize that the approach that we had in mind was not feasible.
Wearing the Red Hat – Since most of the content consisted of 'best practices', we felt that a game-based learning approach would be ideal.
Wearing the Green Hat – We then bounced off our ideas for the game approach, found potential flaws in our approach, went back to the drawing board and came back with alternatives.
Wearing the Yellow Hat – We finalized a blended approach consisting of content presentation along with interactivities using 'gamey' elements. This allowed the learners to apply the principles that they learned, without compromising on project constraints.
Wearing the Blue Hat – We then created a project plan, allocating the most suitable resources, setting project milestones and clearly assigning centers of responsibility.
I certainly believe that this process can provide us with excellent results, especially in situations when we are working in groups.