We have been interacting with a number of clients, understanding their requirements and discussing possible learning solutions, and one thing that stands out in these discussions is the surge in the demand for mLearning solutions.
The use of mobiles and other related digital media as an alternative source of information is increasingly gaining ground in the learning environment. This is compounded by the fact that a large number of organizations and institutions are opting for new modes of learning as part of training and development. I have always believed that mLearning will be the future of eLearning and have also written about it here.
This is in line with the recently released Ambient Insight Report which forecasts US market for mobile learning products and services to be growing at a five-year compound annual growth rate (CAGR) of 21.7%. The Horizon Report 2010 on Mobile Computing also points out some interesting trends that will alter the way we live and learn. You can read more about it here.And, if I go by the enthusiasm seen at the mLearnCon, mlearning surely is buzzing in corporate circles at the moment.
At Upside Learning, we constantly strive to develop new solutions in tune with the technology and market demand, which helps us deliver the best and the latest to our clients. Hence, in response to the rising requirements, our innovation team has been taping onto the latest trends and developing new applications across various platforms such as Android, iPhone, Blackberry, Symbian etc. Our mobile audio-video podcasts, mobile quiz games, and m-learning nuggets, both as web and native apps, are being used successfully by clients across the globe.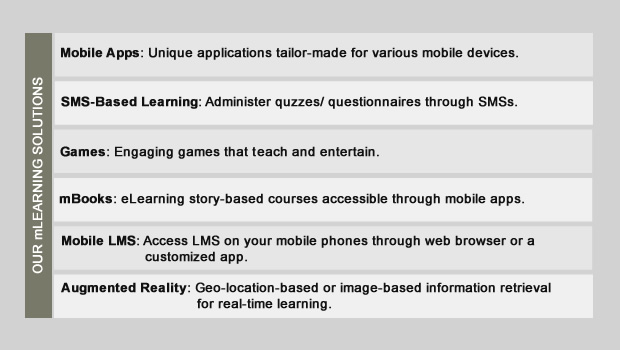 Pune Layar – The first crowd-sourced Layar for an Indian city – was developed by us. We have also developed a mobile version of UpsideLMS and are working on more complex, richer and diverse mobile learning applications that run across platforms and devices. These include content creation and applications for tablet computers like the Apple iPad, learning games etc.
We see exciting times for mlearning ahead. Anything interesting that you have come across? Or maybe something you would like to see? Leave your comments below.