After a few years of hype, mobile learning has now started flourishing; the advent of new generation of mobile devices, high-speed network access, powerful mobile browsers and better native apps are all contributing to this. There is still a lack of standardization across devices and amongst networks across geographical areas resulting in mlearning content development being somewhat constrained.
Before beginning to develop mLearning on their own, they should keep in mind some technical considerations. Earlier we've mentioned some tools that can assist you in mLearning applications. However, each one needs a fair bit of knowledge and skills before they can actually implement solutions using these tools.
However, to alleviate such difficulties, there are some rapid authoring tools available that can create mLearning without needing to acquire the technical skills. Here are some authoring tools that claim to let authors develop content targeted at mobile devices.
HotLava LMA (Learning Mobile Author)
It lets you create single authored source content deployable across multiple formats and supported devices. It has recently partnered with OnPoint Digital, Inc.
Supports major types of images, audios, videos, bulleted/numbered

lists and text integrated in the form of templatized format, tests, quizzes, polls/surveys.

Simple form-based content authoring with support for interlinking the content.
Content can be directly deployed on device OR can be delivered via web.
Web delivered content can be tracked and managed through their proprietary mobile delivery and tracking system (MDTS).
Supported mobile platforms are all the Java supported phones, Windows Mobile, PocketPC, Palm and virtually all those that have XHTML web browser – including iPhone and iPod Touch.
Chalk Pushcast
Chalk Pushcast lets you author mLearning through a plug-in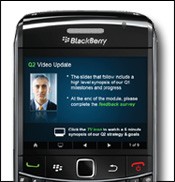 for MS PowerPoint, targeted specifically for BlackBerry smartphones.
Uses familiar freeform authoring of PowerPoint.
Content is published to BlackBerry Enterprise Server and external stakeholders.
Published content can be accessed through Pushcast Player installed on user's BlackBerry smartphone.
The Pushcast Player takes care of tracking and reporting to server.
Lectora
Although  Lectora doesn't have implicit "publish to mobile" option, one can easily configure and publish their titles (authored courses) to be viewable on mobile web browsers.
Lectora and Lectora Online provide templates specifically designed for iPhone and iPad.

The iPhone templates can also be used for publishing content for smartphones having screen width of 320 pixels. However, one should be careful while selecting compatible multimedia content (audio, video, images) for the targeted mobile platforms.
Recently they have also released free template sets for the iPad which one can use for iPad content authoring.
Other tools, like Articulate and Content Point also claims to publish for mobile. But their output format is in older versions of FlashLite – which is now available only on devices like the Nokia N95 and Windows Mobile. I don't consider these significant authoring tools for mLearning development yet. Maybe eventually Flash based tools will gain significance for mLearning provided Flash gets supported by major smartphones and mobile platforms (save the iPhones and iPads).
If you know of any other tools that output mobile compliant content, leave a comment. We'd really like to evaluate and consider those. Thanks!