1. CopperLicht – fast WebGL JavaScript 3D Engine
CopperLicht is a JavaScript 3D engine for creating games and 3d applications in the webbrowser. It uses the WebGL canvas supported by modern browsers and is able to render hardware accelerated 3d graphics without any plugins.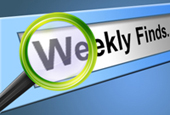 2. Google Buzz
Google has announced Buzz a new social media service that would be integrated within Gmail. Using Buzz you can connect to the other social media services like Twitter, Picasa, Flickr and Google reader. More information on how we might use it in elearning can be found in this post on our blog.

3. SIRI
A personal assistant for mobile phone. Siri understands what you say, accomplishes tasks for you and adapts to your preferences over time. Siri can help you find and plan things to do. You can ask Siri to find a place for dinner, tell you what's playing at a local jazz club or get tickets to a movie. Imagine what an agent like this might do for learning, quite impressive.
4. Sketchpad
A Web-based drawing tool, which outputs the drawing as PNG file. Interesting that it's fully developed in HTML5 and features tools like patterns, gradient, spirographs – generally found in big editors like Photoshop etc. It seems a promising step towards a Flash-less web.
5. IBM Academic Initiative
A cool initiative by IBM to promote open source software in academia. Institutions that are eligible and signup get no-charge access to hardware, full-version software, professionally developed courseware, tools, training, books, and discounts.