After having a great first day at the Learning Technologies 2010 I was looking forward to an exciting second day. Apart from the sessions at the conference that I recap below, there was an opportunity to interact with practitioners from the domain. Discussing their current concerns around learning and development gives us a glimpse into their world and that's valuable.
Here's a summary of the sessions I attended on Day 2:
1.    Key Note by Josh Bersin
Josh is the President at Bersin & Associates– the research company. They focus on the learning & training market and Josh sure knows more about the trends in the industry than most others.
Broadly he spoke about how the L&D landscape was undergoing fundamental changes. Some bits of what Josh shared in his presentation are available in this complimentary report titled Predictions for Corporate Learning and Training Management 2010 (registration required). Some of the key thoughts he shared were:
–    The change gap is increasing (gap between how many CEOs think they have the capability to manage change)
–    72% of large companies felt that their more effective training was INFORMAL
–    Compared to USA the UK spends 29% more per learner but uses half as much eLearning.
–    Deep Specialization is emerging as a key strategy. He used Intel's example to drive this point home.
Bersin used the slide shown here in which types of tools/medium can be used in Informal Learning.  He mentioned that big names like HP, Symantec, BT, IBM, Westinghouse, Cisco, and CA are some of the organizations who are successfully adopting Informal Learning tools & models.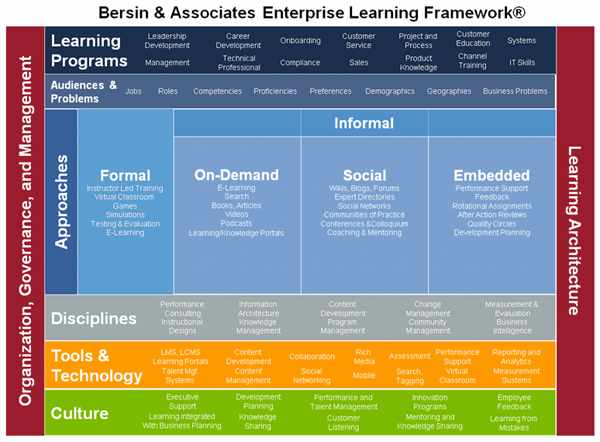 Source: Predictions for Corporate Learning & Training 2010 by Bersin
2.    Mobile Learning For Rapid Response by Dylan Stokes
Dylan Stokes is the Compliance Director at Barclays Capital. He shared the mobile learning solutions Barclays Capital has deployed. These are essentially BlackBerry application that helps Barclays deliver small quick training. Sharing some screen shots would have made more sense here but I don't have any. The program has helped increase the product training dramatically at Barclays.
Dylan shared some key points to consider while working out a solution.
–    Is your provider BB Enterprise Server Ready
–    Best way to activate users
–    Where will the firewall be
–    Hosting arrangements
–    How would you manage enrollments
–    Would you allow self enrollments
3.    Knowledge Transfer on the Move by Bob Sharpe
Bob Sharpe is the Director of Training at Black and Decker University. Rob shared what new are their doing at BDU. They have a video channel called BDU Tube, where people can load their training videos and have an application based mobile solutions (showed an HTC device in screen shots).
4.    Key Note by Stephan Heppell
Stephen Heppell is the CEO Heppell.net and Professor, Bournemouth University.  He shared that the pace of change is exponential now leaving us with very little or no time to reflect. Pace and Agility are the new values. Kids are very smart and are already onto the new technologies. For them email is something that dad does.
Here is Professor Heppell sharing his thoughts on learning in 21st Century.
He also shared some wonderful resources like those included below:
Mapumental
Google Translate
These are just indicators of what technological tools/help our children will have. The skills then needed to succeed would be the ability to adapt and put the tools & information to the best use.
Overall Learning Technologies was a wonderful conference and I would recommend attending to all learning professionals. My Thanks and Congratulations to Donald Taylor (@DonaldHTaylor) for doing a great job.
He also shared some wonderful resources