With increasing bandwidths and better compression techniques available, use of videos in Flash platform based eLearning courses is on the rise. However, often we find videos not being used optimally. This could leave your learners with a bad experience. Here are a few technical aspects to keep in mind when working with videos. Please do share any others that you may know in comments area.
1. Choosing source video
a. Don't double compress videos – use uncompressed or lossless formats when compressing to FLV format.
b. Supported source formats are: asf, avi, dv, mov, mp4, mpg, mpeg, wmv. Mov is preferred over others due to its lossless properties.
c. Analyze if these videos are high motion (lots of zooms, fades and people moving around) or low motion (general talking heads).
2. Encoding videos to FLV
Before using videos in your Flash project, you would need to encode them in a format compatible with Adobe Flash (FLV or MPEG-4). To encode videos into FLV or MP4, the encoder software uses following codecs – H.264, On2 VP6, and Sorenson Spark.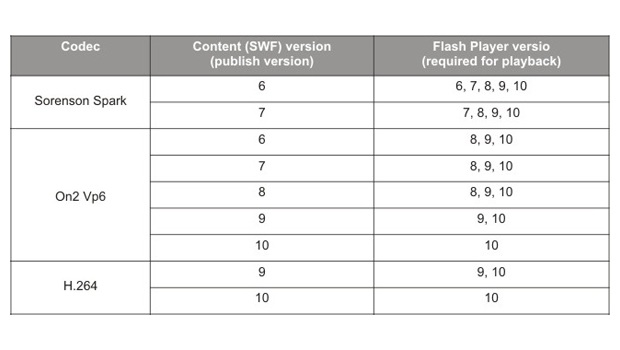 This table shows compatible publish and playback versions for these codecs.
Apart from codec, there are numerous other factors that one need to consider while encoding videos.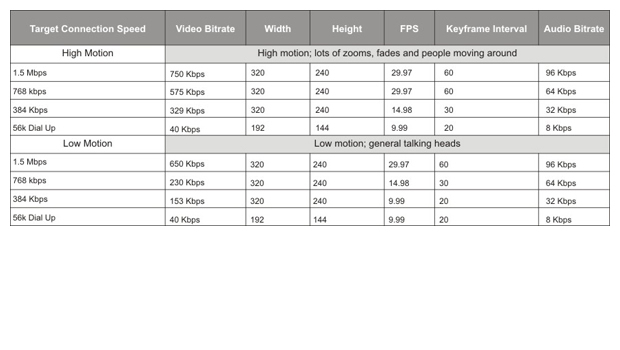 Keyframes are set to 1 KF every 2 seconds.
You can use this bitrate calculator to gauge what quality of target video you would need based on your requirement. These parameters can then be used to encode videos in target format i.e. FLV, MP4 or F4V.
To encode videos, one can use several encoding software available in market. Adobe Flash comes bundled with a video encoder which is quite easy to use and faster enough for batch-encoding a bunch of videos. However, for encoding hundreds of high quality, high length professional videos, you can consider other third-party software which provides several options/setting to deliver professional videos.
Apart from these video encoders/ converters, other video editing software from Adobe and Apple also enable to export to FLV format of the video being edited.
3. Video delivery options
Using Flash, videos can be delivered using either of below methods –
a. Progressive download – placed and accessed externally
b. Streaming – accessing videos hosted on the streaming server
c. Embedded – Importing and placing videos on Flash timeline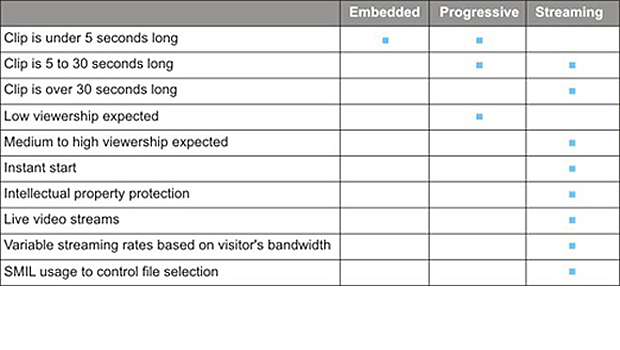 A table of recommendations which will help to decide on right delivery option
If you are considering to use streaming videos, you can have two options – either setup your own server by buying Flash Media Interactive Server OR use services from third-party content delivery network (CDN) companies partnered with Adobe if there are hundreds of high quality videos to be delivered and your viewership is high enough.
4. Playing back videos
The embedded videos are played back from within SWF, so you can create your own components to control the video playback. As for progressive and streaming videos, the video files are placed externally, one would need to use FLV playback components – either provided in Flash authoring environment OR build your own custom playback components based on specific requirements. There are also many FLV playback components available in market – either freely or paid. The bundled components in Flash can be skinned to suite your own design specifications.
Apart from this, you can build interactivity and add-ons around the video playback. This could include – closed-captioning, annotations or any other interactivity, specific to your project.
Flash player 8 and later have option of letting user view Flash content in true full screen. You can have a button on playback control panel to let user choose to view video in full screen.
Please comment if you find this information useful or have other thoughts about using video. We look forward to hearing from you.