The economic meltdown in the last 12-18 months has hit training companies hard. Corporate training budgets have been slashed and travel expenditure has been cut. The pressure on reducing costs has never been greater.
In the past, many Training Companies have been reluctant to adopt eLearning as a medium for training delivery. They have viewed this as compromising on their core competency –human mediated training. Most training companies have been successful in selling their trainers' expertise (and charisma) as a USP. While this has limited them from expanding, it has helped them hold on to their regular clientele and survive through earlier downturns. However, this recession is markedly different, no one can doubt it is more severe than any of the earlier ones. More importantly – this slump has occurred at a time when the very structure of training and learning is undergoing change. Corporates today are considering multiple technology-enabled-training options as part of their long term strategy. The lower costs of eLearning, the foreseeable ubiquity of mLearning, the promise of Social Learning, are all forcing a major reshuffle in focus (and budgets) in corporate training. Training Companies seem to be realizing that when we come out of this recession, human mediated training would not be in demand as much. They are now exploring options to keep running their business profitably by cutting the cost of training for their clients, while adapting to the changing nature of training and learning itself.
At Upside Learning, we are seeing great interest amongst training companies to put their training programs – in part or full – online, and to offer eLearning or blended learning solutions to reduce recurring costs. With seven new clients signing up for our flagship product UpsideLMS in the last 4 months, sales of the LMS – as proportion of our total sales – is up quite a bit. We anticipate this will grow further as more training companies consider blended learning options to deliver greater value to their clients and customers.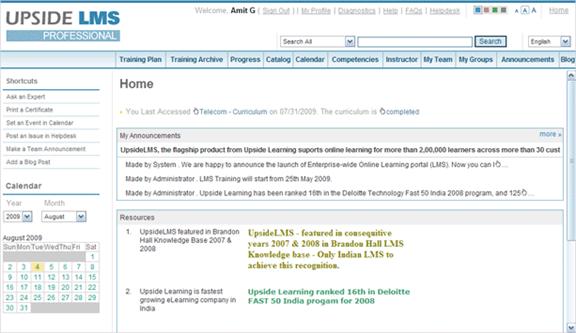 UpsideLMS: Read about Upside Learning's solutions for training companies OR get in touch with us if you need more information or have questions.
What we are seeing is a trend based on our discussions with many Training Companies in the last six months. We'd like to hear from you if you are seeing the same or a different trend.