Upside Learning has picked up 2 awards at the 21st Annual Apex Awards for Publication Excellence 2009. You may ask – what is a learning solutions company doing at publication awards? Well, the core of what we do is communication and Apex has categories for the kind of work eLearning vendors do.
The Apex awards are given in 122 communication categories , there are 11 main categories including: newsletters; magazines and journals; maga-papers and newspapers; annual reports; brochures, manuals and reports; video and electronic publications; Web and intranet sites; campaigns, programs and plans; writing; design and illustration; and special publications. We participated in video and electronic publications; and brochures, manuals and reports categories.
With these 2 awards we have now won 5 of them in last 3 years. Winning these awards regularly establishes that we have a champion team that can perform year after year and this undoubtedly feels good.
Our winning entries:
The first is a custom eLearning content solution for potential Branch Managers of a major chain of builders' merchants. This program with game-like in approach is presented within the context of a typical branch manager's day, with a clear focus on application of knowledge and skills. Here is a screenshot.
The second is a recently released white paper ("Do You Need Games In Your Elearning Mix?") on adopting digital game-based learning. The whitepaper examines why you need games as part of your learning solutions. It recommends starting with casual games and then gradually moving up to more complex/serious ones. There are many issues to be considered – culture, audience profile, real business need, budgets, and time. If you have already looked at the whitepaper and are looking for more resources for game based learning, here is a great list of Top 100 Learning Game Resources.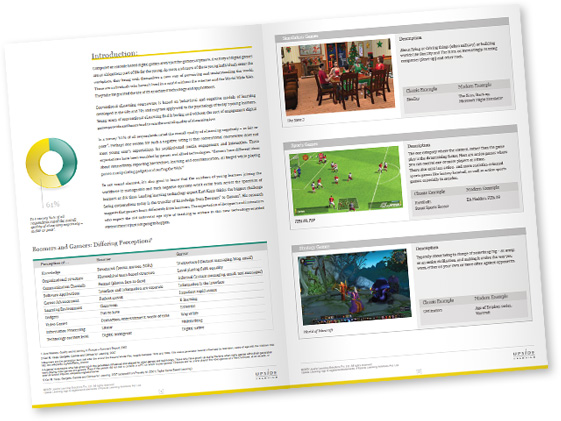 Do these awards help?
In addition to the Apex awards Upside Learning has received recognition from Red Herring, Deloitte, and TrainingIndustry.com in the recent past. These awards help establish credibility with both existing clients and new prospects; improve the confidence of our team and motivate them to perform even better; instill pride in existing employees; and possibly even reduce employee turnover. At another level, striving to win such awards force us to practice continuous improvement and innovation. This assumes great significance as we look to compete with the best in the world.
However, awards are not an end in themselves. They can at best get you attention, credibility, or sometimes even a foot in the door typically as sales people would call it. Ultimately, however, it is the quality of solutions and professional service you deliver that matters for long term client relationships. Some clients may not attach much value to such awards. As an instance, I can vividly recall how a prospect reacted when during our presentation we mentioned about our awards – "Yeah, I know how these awards are given (smile)". Evidently these clients won't value awards any more than an advertisement in a newspaper. They want to see some real solutions and how well we can solve their unique problems with those. Case studies, samples of past work, client testimonials, and a proof of concept could work better in building credibility with such clients.
Conclusion
Even if some (actually very few) clients don't value awards, a majority of them do. I think awards are a good indicator of the base quality a client can expect from a prospective vendor. It should make it easier for them to shortlist vendors during their selection process.
At Upside Learning we wish to keep improving in what we deliver to our clients and hope to win more awards in the process. And before I close, I take this opportunity to thank all our clients for providing us opportunities to work on some exciting projects in last 5 years and for participating with us in these awards.