Adobe has launched a limited free preview of its BrowserLab, an online service that allows users to preview web pages in different browsers and operating systems to identify potential issues. Registration for the free preview access is currently closed, although the site's Wiki section mentions that it would be made available again soon.

We signed up early and were able to try it first hand—on what else but Adobe's own website. Our initial impression: It's a neat testing solution for cross-browser compatibility, especially for spotting visual misalignments/displacements.
At present, Adobe BrowserLab tests for a limited combination of browsers and operating systems: Firefox 2.X and 3.X (Windows XP and Mac OS X), Internet Explorer 6.X and 7.X (Windows XP), and Safari 3.X (Mac OS X). There are three viewing and diagnostics options available, with zoom functionality: Single or 1-up view (shows one screen shot—one browser set selected), Side-by-side or 2-up view (shows two screen shots—two browser sets selected—side-by-side), and Onion view (superimposes one screen shot over another—two browser sets selected).
Below is what the onion view—which we liked the most from the three views available—of Adobe's website (www.adobe.com) looks like for a combination of Firefox 3.0 – Windows XP and IE 7.0 – Windows XP. Notice the out-of-focus appearance due to the minor displacement of elements in the two browsers.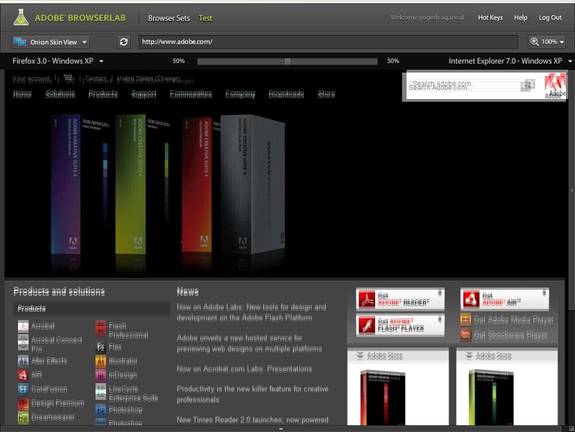 Cross-browser testing is one of the key tests that needs to be conducted for the different web-based Learning Solutions we develop and we see BrowserLab as a useful tool that could help us to save efforts on creating various test environments—at least for visual testing, as well as keep up-to-date with new and upcoming browsers.
One important thing to note is that Flash components are captured at different frames, so you may see 2-up views similar to the one below. Don't worry about that, just reload the page and things should be fine.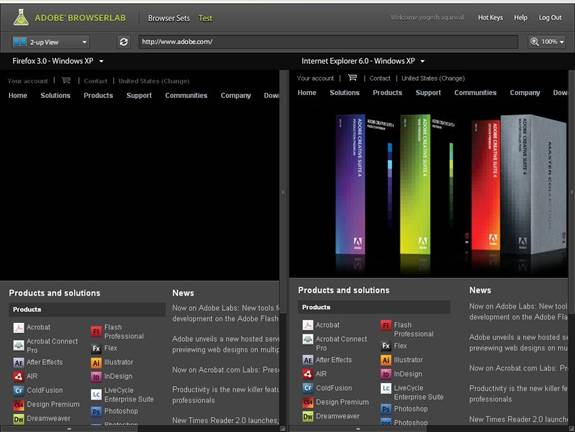 Though this limited preview is a free service, Adobe does plan to launch it as a paid service. Overall, this would be a good utility for eLearning development; we're waiting to see the pricing though.