Mobile learning (or mlearning) is probably a hot topic of discussion in your organization right now. In some organizations, L&D staff is struggling to build a business case for mlearning. Understanding how mobile devices are different from conventional computers used for elearning and the different avenues they open up is a great starting point to build a business case for mlearning in your organization.
In my opinion, there are six fundamental drivers of mobile learning in the workplace. These will help you make the business case for mLearning.
1. Doing More With Less
Organizations around the world are dealing with increased competition, shrinking margins, and an uncertain economy – with a resultant need to do more with less. This is will not change even if (which is big IF) the economy starts recovering.
William Hague, UK's Foreign Secretary, in a recent interview to the Sunday Telegraph, advises corporate bosses to stop complaining about the economy and work harder, as that's the only growth strategy. In his words – "And do more with less – that's the 21st Century… We're trying to rescue the work ethic just in the nick of time."
Mobile technologies bring efficiencies in businesses and are beginning to impact operational strategy. Gartner predicted earlier this year that IT will be expected to do more with less in 2012. It says – "CIOs concentrating on IT as a force of operational automation, integration and control are losing ground to executives who see technology as a business amplifier and source of innovation. Effective leaders use technology, which includes IT, to strengthen the customer experience and eliminate costly internal distortions. They are using technology to 'amplify' the enterprise."
For L&D mobile devices and technology will bring efficiencies by bringing knowledge and information assets to the staff just when they are needed.
2. Growing Mobile Workforce
In most organizations sales staff, transportation personnel, and senior executives are mostly mobile. Amongst other staff, most spend considerable time in their daily commutes. It is estimated that 75% of the workforce in the US is already mobile and IDC predicts that by 2015 the numbers, worldwide, will reach 1.3 billion or a staggering 37.2% of global workforce. This is already having an impact on the way we design and manage work itself and is bound to impact the training domain as well. The BYOD movement is one visible impacts of the growing mobile workforce and rapidly improving mobile technologies.
3. 21st Century Workforce Demographics
The workforce now is seeing the entry of Millenials, or Generation Y, (those born after mid 80's) who are believed to be more tech-savvy than any of the previous generations. They grew up with technology and rely on it to perform their jobs better. They're usually connected and may prefer to communicate though emails and text messages. Instructor led training may not be the most desired modes of learning for them.
Mark Prensky, in 2001, published Digital Natives, Digital Immigrants where he wrote about the conflict between generations as "Education is the single largest problem facing the digital world as our Digital Immigrant instructors, who speak an outdated language (that of the pre-digital age), are struggling to teach a population that speaks an entirely new language. Immigrants suffer complications in teaching natives how to understand an environment which is "native" to them and foreign to Immigrants". There has been some criticism of this classification, but latest research also shows that there are generational differences albeit more gradual that what Prensky suggested. I believe a conflict similar to what Prensky suggested is happening in the workplace as well. You need to ensure your L&D strategy is not reflecting the 'digital immigrant' characteristics of a generation that didn't grow up with sophisticated technology. There's no denying the fact that different generations understand and behave with technology differently.
4. Changing Personal Behavior Patterns
While the millenials lap up technology faster than others, the 'older' generations are also beginning to use mobile technology for daily activities like
– Search for everything we need just in time,
– finding locations/directions instantly,
– news, ebooks, sports updates,
– social networking, facebook, twitter,
– banking & shopping,
– face time / video calls.
This article from Mashable talks about "How baby boomers are embracing digital media" which in a way captures the essence of the point I'm trying to make. As most of your staff becomes comfortable with mobile technology and starts using it in their daily lives, that's something they'd start expecting to be used at the workplace too.
5. Rise of Mobile Computing
Smartphones showed a massive 63% growth in 2011, to overtake PC sales for the first time in history – Canalys. Forester estimates the sales of tablets will be higher than that of PCs by 2015. And in a few years the number of smartphones will dwarf the number of PCs.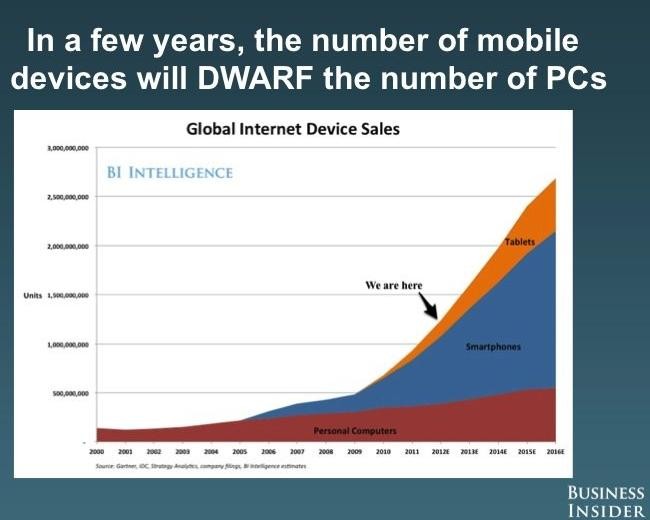 If general computing is shifting to handheld devices expect to see more and more of organization ensuring their systems are available on such devices. A report by Morgan Keegan estimates, the mobile computing ecosystem will become bigger than PC market in about 5 years (from 2011). Just by allowing access to their systems from remote devices organizations are saving costs on work allocations, filling expense forms, and the like. With this shift it is imperative that you start thinking about learning delivered though this channel.
6. Explosion of Mobile Internet
A Cisco report forecasts the mobile internet data growth to be 18 times in 5 years (2011-2016). Earlier in 2010, Gartner had projected that by 2013 more people will access the internet on mobile phones than from PCs. It's already true for some developing countries like India, where a majority of people access internet from mobiles only.
The Cisco report cited above mentions the key reasons for such huge growth as:
– Rise of the cloud: mobile cloud traffic will grow 95% per annum between 2011 and 2016
– More mobile connections: there will be 10 billion mobile internet connected devices by 2016
– Enhanced computing of devices: more powerful mobile devices like tablets
– Faster mobile speeds: faster speeds enable more consumption
– Mobile video: 71% of mobile data traffic will be video by 2016