On 3rd September, the Upside Learning Blog completed six months of existence. Its a good time to review how we have done thus far and to move the goal posts. The blog has 70 posts, attracted 150+ comments, has around 300 subscribers (reported from FeedBurner), and has received over 22,000 page views.
The WordPress Blog Stats graph of monthly page views for the last 6 months.  Since we started tracking only towards the end of April, the numbers for March and April would be little higher than those shown here, but certainly lower than those of May.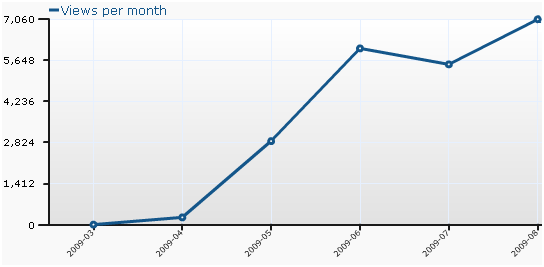 Delving into the blog stats it's interesting to look at:
Top 6 Categories with the Most Posts :
1. Learning Technology (20)
2. eLearning (16)
3. Game Based Learning (16)
4. eLearning Development (15)
5. Innovation (13)
6. Learning Design (13)
Top 6 Most Viewed Posts:
1. Top 100 Learning Game Resources (3,332 views)
2. Our Top 10 Learning Tools 2009 (1,044 views)
3. Top 47 eLearning & Workplace Learning Blog (872 views)
4. The Ten Commandments of eLearning (776 views)
5. Using Silverlight/Expression Blend for e (608 views)
6. eLearning Outsourcing to India will reach USD 603 million by 2012 (426 views)
Top 6 Posts Popular on Twitter (as tracked by Topsy):
1. Top 100 Learning Game Resources (99 Tweets)
2. Top 47 eLearning & Workplace Learning Blog (34 Tweets)
3. Twitter: The #1 Tool for Learning (21 Tweets)
4. eLearning On The Rise (16 Tweets)
5. The Ten Commandments of eLearning (16 Tweets)
6. Five Myths of Mobile Learning (16 Tweets)
Overall, it looks like the blog has been doing well, this has been possible because of you – our readers. Here's a big thank you from the Upside Learning team to you for comments, feedback & encouragement. The numbers aside, I regard the 150 odd comments received on our posts as the most valuable. We'd like to increase discussion on the blog and need your suggestions & feedback to make that happen. Actually, we'd love to hear just about anything you might have to say to us. Comment right here, or send your suggestions to amitgarg@upsidelearning.com
If you've liked what we've shared with you in last 6 months we would appreciate your subscription to this blog (if you haven't yet, here's the feed); share it with your friends & colleagues.
Thanks and keep reading!