Meghalaya in northeast India is on my to-visit list. I am fascinated by the root bridges there. Imagine a bridge that lives! Doesn't this one in Nongriat village look like a scene from The Lord of the Rings?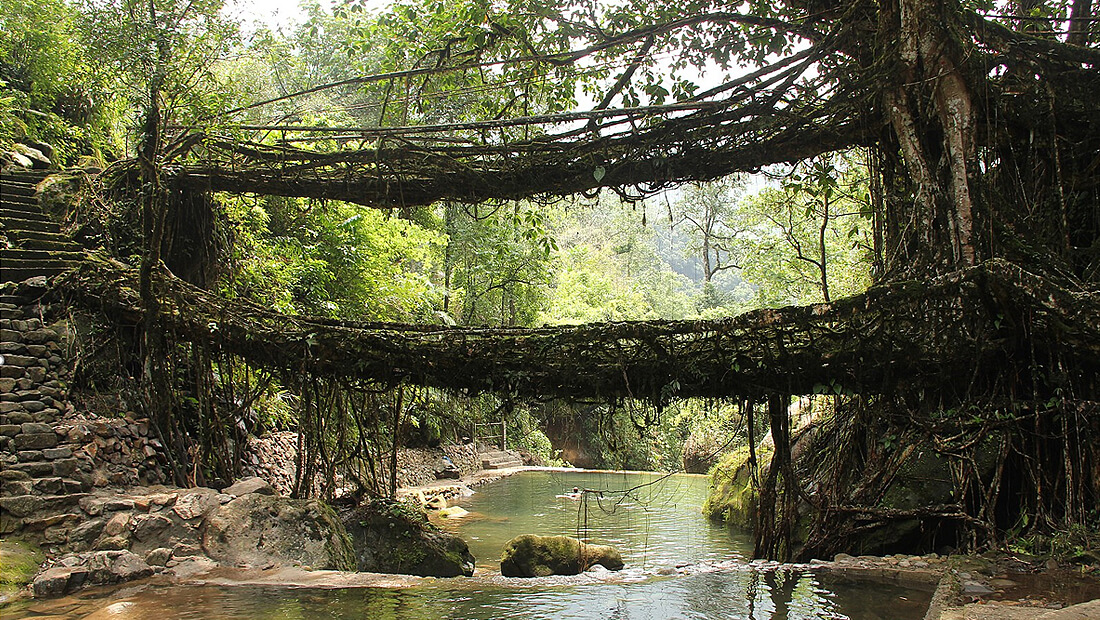 By Arshiya Urveeja Bose – Flickr, CC BY 2.0, https://commons.wikimedia.org/w/index.php?curid=17238490
Wikipedia tells me a living root bridge is a simple suspension bridge formed of living plant roots. If the tree remains healthy, the roots will grow thick and strong. New roots will grow throughout the tree's life and must be pruned or manipulated to strengthen the bridge.
What is equally fascinating is how this is so much like my other lifelong passion—learning! From not having the knowledge and the skills, you cross over ready and raring to perform that task. Perhaps, it was no accident that when we wanted a graphic representation for learning engagement while we were working on the guide, the team suggested a bridge!
Getting to the root of learning engagement
Think of today's workplace learner. You give them the good old lessons, lectures and, of course, presentations. How do you get their whole-minded, hands-on involvement without the yawning?
Now think of an organization in today's business environment. They would rather have the learners emerging all set to take on challenges old and new.
The answer to both lies in learning engagement. David Jonassen said it right in Learning to Solve Problems, that the only legitimate cognitive goal of education especially in corporate training is problem solving, which he describes as the "most authentic" and the "most relevant" learning activity. Knowledge designed to solve problems is "better comprehended, retained, and therefore more transferable".
He goes on to make a strong case for learning engagement. "Meaningful learning cannot occur until and unless learners manifest an intention to learn. All human behavior is goal-driven. The clearer our goals are for learning, the more likely we are to learn meaningfully and mindfully."
We must build that bridge right and strong.
The pillars of learning engagement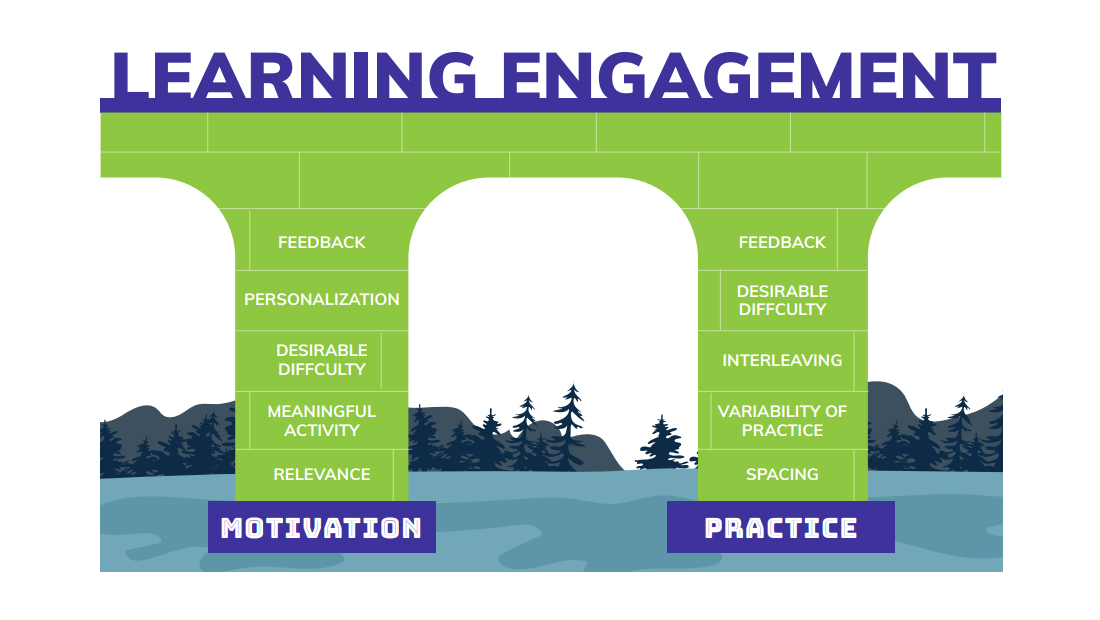 Learning science tells us that learning engagement rests on two pillars: motivation and practice.
Motivation is the starting point. Right from the beginning, it is important to maintain motivation levels throughout the learning intervention with appropriate learning design.
There is no learning without practice; there is no performance without practice. Simulations or scenarios can fill in for real situations, but practice is a must. What works best is spaced practice and staggered retrieval. And interleaving practice sessions.
Why must I learn? Adults needs to understand the relevance of what they do. Making the context of learning clear right at the outset and ensuring every learner has understood that goes a long way to promote motivation and, hence, engagement. Personalization makes the purpose of learning relevant to the learner.
Elizabeth and Robert Bjork, who first drew attention to the importance of desirable difficulties observe that "conditions that create challenges and slow the rate of apparent learning often optimize long-term retention and transfer". These include: "varying the conditions of learning, rather than keeping them constant and predictable; interleaving instruction on separate topics, rather than grouping instruction by topic (called blocking); spacing, rather than massing study sessions; and using tests, rather than presentations, as study events."
Meaningful activity is an essential ingredient of learning engagement. The activity should make the learners consider multiple options and pick the one they think can best the challenge. Activity makes learners take the right decisions and execute realistic actions.
Then there is feedback. Feedback must consider the level of the learner's skill or knowledge and be delivered at the right time. Explanatory feedback would greatly help novice learners, but multiple consequence-based feedback sessions work best before the final judgmental feedback.
Learning, so like living roots
Going back to Meghalaya, those roots keep growing and must be pruned and manipulated to keep the bridge strong. Just like modern workplace learning! The learning does not end with the program. It must continue to grow and adapt to ford evolving challenges, safely and securely.
Those bridges are very much part of the ecosystem. Just as learning ought to be in the business ecosystem. And just as learning engagement ought to be in bridging individual capability and business goal.