While preparing for our webinar, Mobile Learning in The Workplace, based on the Towards Maturity In-focus report by the same name, I read through the Learner Voice, which is also produced by Towards Maturity.
Published in April 2014, the Learner Voice draws on insights from 2,000 learners from a range of companies across the private sector and tries to understand how learners are really learning in the private sector enterprises.
One of the questions in the survey asks participants about what's stopping them from learning online and this is what they have to say: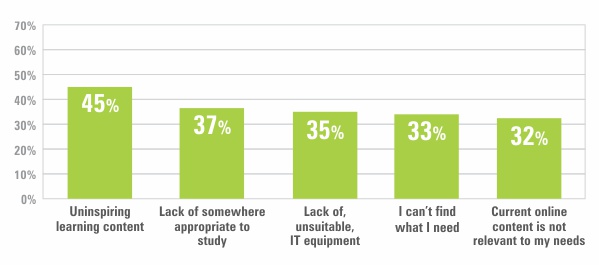 Clearly irrelevant and uninspiring content is letting your leaners down.
Another interesting data point in the survey says while 69% of L&D are developing online learning in house but only 38% believe they have the skills to do it. Well the results are out there for us to see!!
How can you change this?
You could get started with by adopting the serious eLearning manifesto and building a more skilled team in-house for the job. Or you could bring in a vendor to do the job for you. Browse our elearning and mlearning portfolio to take a look at some of the work we have done for our clients. Or request here for access to a larger set of samples including some of the award winning ones, if you wish.
Some of the other interesting bits from the Learner Voice are:
88% of staff agree they like to learn at their own pace
The classroom is not dead – 64% still find them very useful
51% access learning and support resources from their mobile device 'at the point when they need them the most' with 44% accessing in the evening and weekends
Staff are 4x more likely to go to YouTube for learning than their in-house social network
Line managers are the most influential in determining online learning behaviors
Go download a copy for yourself and discover what your learners are saying and doing.