Of late, many of our clients have asked us to develop courses for deployment over PCs but which can also be viewed over the iPad.
While the demand for HTML5 courses is yet to catch up, the demand is growing stronger nevertheless. This hardly comes as a surprise given that the iPad dominates the worldwide tablet market. As per data published by Good Technology in their Good Technology Device Activations Report | Q1 2012, the iPad 2 averaged 17.7 percent of their enterprise activations in the first quarter of 2012 in the US. In just a month since its release, the iPad 3 snagged 4.3 percent of Good Technology's enterprise activations.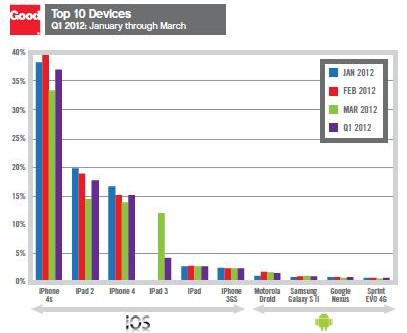 The only two devices to do better than the iPads were the iPhone 4s and the iPhone4.
Worldwide, Samsung probably sells more smartphones than anyone else, Looking into the future – this article predicts that iPads will retain more than 50% of the installed base of all tablets in 2016, but Android and Windows Metro will be the other two dominant platforms. We believe at this stage it is the iPad driving eLearning to HTML5.
Given this trend, it is but obvious that the demand for rapid authoring tools which can publish content in HTML5 will also increase. In this post, we examine 5 rapid authoring tools which show tremendous promise.
1) Adobe Captivate 5.5 with HTML5 Converter
The HTML5 Converter for Adobe Captivate 5.5 is an experimental technology that converts SWFs generated by Adobe Captivate 5.5 into HTML5 format. Once these files are converted to HTML5, you can edit them with an HTML editing tool, such as Adobe Dreamweaver. You can view the output in any browser that displays HTML5 content, including iOS (iPhone and iPad) devices.
Please note that not all Adobe Captivate features are supported in the HTML5 format. For more details, please refer to the Release Notes of the HTML5 Convertor, which describe supported features, known issues and the roadmap for upcoming features.
2) Lectora Inspire
Lectora Inspire can help you to quickly create dynamic video and Flash content as well as transform your e-Learning to HTML5 for mobile delivery. It enables you to automatically push your e-Learning to HTML5 and other publishing options.
3) Claro from dominKnow
Claro outputs HTML5-based content, so all of its authoring features can be used to create engaging and interactive content for delivery on smart phones or tablet devices. Claro comes complete with layout themes to get you started quickly, and a robust set of in-tool authoring features to help you create mobile learning courses.
4) mLearning Studio from Rapid Intake
Rapid Intake's mLearning Studio is a cloud-based solution that can help you build mobile learning in a matter of minutes. It provides you with the option to publish to both HTML5 for mobile browsers and Flash for desktop browsers at the same time.
5) Sencha Animator
Sencha Animator is a desktop app to create CSS3 animations for WebKit browsers and touchscreen mobile devices. Since CSS3 consistently works across iOS, Android and BlackBerry OS6, this gives Animator projects a big step-up for use on mobile platforms.
Upcoming Tools
Two other tools to watch out for are Adobe Edge and Magetta.
Adobe Edge is a new web motion and interaction design tool that allows designers to bring animated content to websites, using web standards like HTML5, JavaScript, and CSS3.
Maqetta is an open source project that provides WYSIWYG visual authoring of HTML5 user interfaces. The Maqetta application itself is authored in HTML, and therefore runs in the browser without requiring additional plugins or downloads.
Another rapid authoring tool that the entire industry is waiting for eagerly is Articulate Storyline. Storyline is a standalone desktop authoring tool that will be able to publish iOS-compatible output via HTML5.
A Word of Caution!
Judy Unrein makes a very valid point in her blog post Publishes to HTML5? Buyer, Beware. To quote Judy: Any authoring tool and any output is only good if it serves your design, which serves the learning/business need. Flawless publishing to HTML5 doesn't do you any good if the tool isn't capable of creating – and publishing – the interactivity you've designed.
If you know of any other rapid authoring tools that output HTML5 content, leave a comment. We'd really like to know more about them. Thanks!